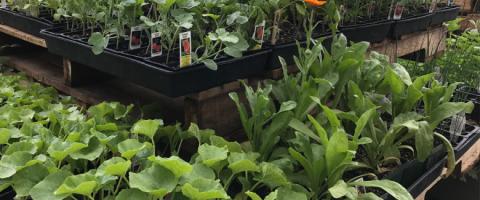 Come Grow With Us!
Check Out our 2017 Summer Garden Transplants
Want to step up your game and grow a killer garden?  We encourage you to print our 2017 Summer Transplant List located as a .pdf at the bottom of this page!  Thanks to Hillary for creating this awesome resource and for asking our growers to supply us with unique varieties you won't find anywhere else!   This list includes everything our local greenhouse growers currently have cranking out for us, but does not necessarily represent everything we will have at all times in our garden center.  We have been selling through plants quickly this year, but receive new plant shipments every Thursday and Friday in anticipation for busy weekend traffic.  If you know you must have a flat or two of a particular variety, give us a call, and we can hold plants for you!  
We're experimenting this year with keeping our plants in two locations:  in our garden center behind the ramp and also front and center in the old power equipment space, so make sure to explore the whole yard when you get here. 
In addition to annual transplants, we have also increased our inventory of 4" herbs, fruiting trees, canes, and shrubs, and native pollinator plants!
2017 Transplant Pricing
$2.75 per 4 pack
$25 mixed flat of 48 plants
$21 single variety farmer flat