Posted February 27th, 2016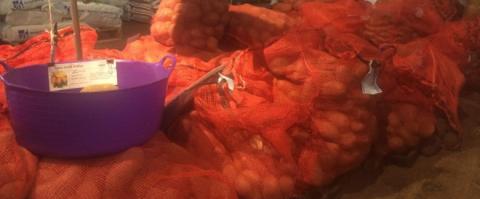 It's Tater Time, Y'all!! 
It's still wet, muddy and cold out there, but it's time to procure your seed potatoes and start waking them up in the safety of your mud room or kitchen until you get a good opportunity to plant in March.  We are working with Grand Teton Organics out of Idaho this year for our seed and we currently have 30 varieties available in limited quantities.  Call us if you'd like to reserve any and we'll put them in a safe place for you until you get here or COME ON DOWN before we sell out!
High-Availability Varieties (at least 200# avlb.)
Austrian Crescent Fingerling
Rose Finn Apple Fingerling
Chieftain
Dark Red Norland
Purple Majesty
Yukon Gold
Medium-Availability Varieties (at least 50# avlb.)
Ama Rosa Fingerling
Red Thumb Fingerling
Purple Peruvian Fingerling
Adirondack Blue
Peppermint
Terra Rosa
Russet Norkotah PHP
Low-Availabilty Varieties (under 50# avlb.)
Banana Fingerling
French Fingerling
Peanut Fingerling
All Blue
Bintje
Caribe
Colonial Purple
German Butterball
Kennebec
King Edward
Love Gold Valley
Purple Viking
Red River
Rosa Roja Amerilla
Spartan Splash
Russet Burbank