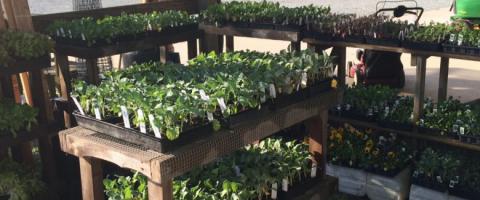 We've Got A Whole Garden at Your Fingertips! 
Mixed Flats $20 or 4 packs $1.95 each
Got spaces in your garden you want to fill yesterday?  We've got the transplants to make it happen.  Whether you lost some to the cold or fell short in filling out a bed, we have the following locally grown transplants and varieties available to help you finish planting out your spring garden.  Come see us soon while supplies last.
Broccoli
        Green Magic
        Marathon
        Packman
        Premium Crop
Cabbage
        Advantage
        Blue Vantage
        Early Flat Dutch
        Early Jersey Wakefield
        O.S. Cross
        Red Acre
        Stone Head
        Red Dynasty
        Savoy
Cauliflower
        White
        Violet
Kale
        Red Leaf
        Green Leaf
        Lacinato or Dinosaur
Pac Choi
        Baby/Mid-Sized Head
        Large-Sized Head
Lettuces
        Red & Green Romaine
        Bibb
        Butter Crunch
        Black Seeded Simpson
        Red Sails
        Green Ice
Swiss Chard
        Red Stemmed
        Bright Lights
Spinach
        Tyee
Onion Bunches for Bulbs or Scallions
        Texas Sweet
        Red Burgundy
        Evergreen Bunching
Parsley - curly & flat
Green Kohlrabi
Thyme
Pansies
Early Girl Tomatoes
And more!!