Posted November 8th, 2018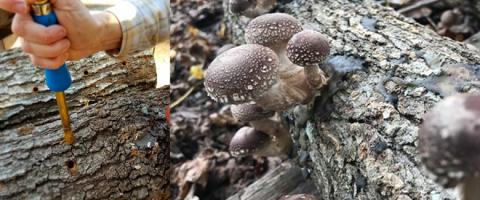 Fungi Friday: Mushroom Log Demonstration 
Friday, November 16, 5:30-6:30
Cost:  $30/person  Each participant will leave with an inoculated log.
Join Laura Stewart of Haw River Mushrooms, LLC to learn how to inoculate mushroom logs for outdoor growing.  We will inoculate shiitake logs together in class, and talk about growing shiitake, oyster, and lions mane mushrooms, including selecting wood varieties, inoculation tools, site preparation, maintenance, mushroom ID, and harvest techniques.  Course cost includes one inoculated shiitake log to take home.  Spawn and other tools will be available at an additional cost if you wish to inoculate more logs at home.  Come for the fungus, stay for the fun!  
About the instructor: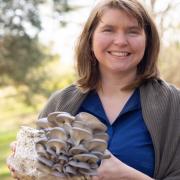 Laura Stewart is the co-owner of Haw River Mushrooms, LLC, based in Saxapahaw.  Her farm grows oyster, shiitake, lions mane, cinnamon cap, reishi, and other seasonal varieties of hardwood mushrooms.  Laura is also a certified mushroom forager for NC, SC, and GA.  Learn more about her work and the farm at...
www.hawrivermushrooms.com,
www.instagram.com/hawrivermushrooms
www.facebook.com/hawrivermushrooms
How to Reserve Your Spot
Participants will need to pay $30 to reserve a spot.  Payment can be made by calling the store with a credit card payment, mailing a check (please call to let us know it's on the way), or reserving your spot the next time you are in the store.  Space is limited.