Posted February 20th, 2015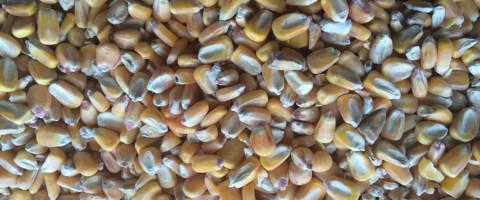 New Sunrise Farms Non GMO Feed
Finally a Non GMO feed that doesn't break the bank!
We have had so many conversations in recent months with customers who want to feed non-GMO without paying the $30+/bag price of an organic certified feed.  We have found a feed mill in Stuarts Draft, VA that mills all non-GMO feeds at a very reasonable price.  Sunrise Farms is a Mennonite family farm with a non-GMO feed mill and a natural meats store.      For those of you who are fans of farmer Joel Salatin of Polyface Farm, you may be interested to know that Salatin is one of Sunrise Farms' biggest customers and has been instrumental in building their feed business.  Sunrise Farms feed is very similar in consistency to Reedy Fork's organic feed - basically a mix of grains with a Fertrell NutriBalancer supplement added in.  The non-GMO grains used in their feeds are mostly sourced through local farms, and Sunrise runs periodic tests to ensure that the grains continue to be non-GMO.
Sunrise Farms makes feeds for poultry, turkeys, goats, cows, swine, and also supplies hard to find non-GMO grains such are corn.  Check out the Sunrise Farms website for a complete list of feeds and ingredient lists.  Please note that the pricing on their website is lower than what we will be able to offer by the time we pay shipping and also add a store markup, but we still feel it will be a much more cost effective solution for all of us who are trying to feed our animals naturally but on a budget.   We are happy to special order any of Sunrise Farms' feeds, but if you were to walk into our store, you would currently find the following...
Non-GMO layer $21 per 50lb.
Non-GMO soy free layer $23 per 50lb.
Non-GMO starter $22.50 per 50lb. 
Non-GMO goat $21.50 per 50lb.
Non-GMO swine $19.00 per 50lb.
Non-GMO cracked corn $15.00 per 50lb.
Bulk Discounts:  As with all of our other feeds, we will offer a 5% discount when purchasing 10 or more bags at a time, and we will also offer a 10% discount for purchases of 1 ton pallets.  It is possible that our pricing could come down a bit more as we build volume - basically the more we order at a time, the less freight per bag we have to allocate to the cost of the feed, so help us spread the word!   Also, we can order ton totes at additional discounts!
  If you are interested in pre-ordering feed through us, let us know.  We are still new to this feed and haven't established a routine ordering cycle yet, but we anticipate we will be ordering every 3-4 weeks.