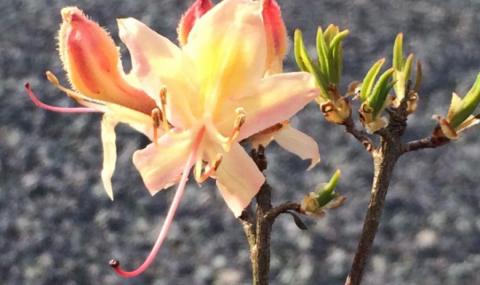 Now Offering Native NC Pollinator Plants
From Chatham County's Very Own Mellow Marsh Farm!
Do you want to fill your landscape with flowering plants that will attract native wildlife and pollinators to your yard and garden?  Have you walked past the Pollinator Paradise Garden at Chatham Marketplace and wondered how you could create such a space at home?  Now you can find those plants right here at Country Farm and Home! 
Mellow Marsh is a local plant nursery specializing in native & wetland plants that, in turn, support healthy local ecosystems by providing local wildlife of all shapes and sizes with food, building materials and shelter.  Native pollinators and local bird populations benefit especially by having access to the kind of landscape plants Mellow Marsh offers.  Every other week, we will bring in a selection of Mellow Marsh plants to enhance your landscape. 
We are also happy to order in any Mellow Marsh plants especially for you! 
Check out Mellow Marsh's online catalog for a complete offering of plants, photos, descriptions, and more!   
Also check out the link at the bottom of the page that charts each plant's wildlife value.
Here's what we have for you this week:
Service Berry (Amelanchier arborea) - A small tree or shrub with a narrow, round crown and white elongate petals at the branch tip. Height to 30'
Red Chokeberry (Aronia arbutiflolia) -  Large shrub simple serrate leaf; pinkish to white flowers, black drupe
Sweet Shrub (Calycanthus floridus)
Flowering Dogwood (Cornus floridus) - Small deciduous tree with showy white bracts in April-May.  Height to 30'
Bone Set (Eupatorium perfoliatum) - Tall robust herb with white flowers
Witch Hazel (Hamamelis virginiana) - Small deciduous tree, early spring flowers; deeply veined serrate leaves
Inkberry (Ilex glabra) -  Evergreen rhizomatous shrub with black drupes
Fetterbush (Lyonia lucida) - Broadleaf evergreen colony forming shrub with delicate bell shaped flowers on a drooping panicle
Atlantic Ninebark (Physocarpus opulifolius)
Dwarf Azalea (Rhododendron atlanticum) - Low growing azalea with abundant pinkish-white, fragrant blooms April to May
American Snowbell (Styrax americanus) - A showy shrub or small tree with numerous white and gold bell shaped flowers in late spring.
Arrow Wood (Viburnum dentatum) - Shrub with arrow-straight stems, opposite leaves, black drupes
Possum Haw Viburnum (Viburnum nudum) - Showy tardily deciduous native shrub with blue black drupes persisting into midwinter.
Yucca - (Yucca filamentosa) - Suckering evergreen perennial with characteristic thready filaments along leaf margins.
       Plant descriptions from Mellow Marsh website.