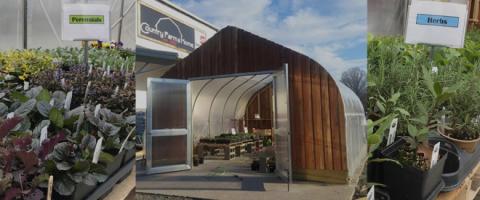 Our Plant Selection is Expanding!
Many of you have commented on our new greenhouse.  The greenhouse gives us more room to showcase a larger variety and selection of plants.  We recently added J&B Herbs and PlantWorks Nursery to our local vendors which means more plant options for you.  Currently, we're keeping our newest additions up front in the greenhouse (organic certified herbs, spectacular ornamentals, and more).
Look for our selection of tried and true edible plants still under the shade cloth on the South side of the building.  There, you'll currently find a variety of annual veggie transplants grown by Keith Denny and George Jones as well as fruit tree options from Useful Plant Nurseries and native polllinators from MellowMarsh.  We'd love you feedback as we grow our plant selection.  Hillary is our plant buyer.  Let her know what you'd like to see here!