Posted October 30th, 2016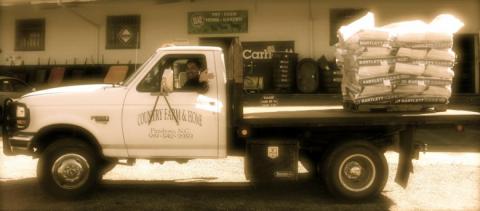 2016-17 Deliveries to Orange and Durham Counties and Lomax Incubator Farm
The Nitty Gritty of Orange and Durham County Farm Stops:
A $300 minimum order per stop (can be combined orders)
A small delivery charge per stop $20 for Orange County farms and $30 for Durham County farm  (can be shared among orders - many neighbors coordinate 3-4 orders to be dropped at a single location bringing individual delivery fees down as low as $4-$5 each!) 
Enough room for us to turn around with an F350 truck pulling a 20' flatbed trailer without us getting stuck in the mud!
Place orders 2 days before scheduled delivery by phone or email.  Payment can be made over phone with a credit card or on delivery with cash or check.
We envision neighbors and friends working together to save money by coordinating common shared stops.  For instance, if three neighbors place orders with us and one agrees to accept all of the orders at her farm, then the three orders together only need to total a minimum of $300.  In this case, for a Durham County stop, the stop charge would be divided equally among the neighbors so each order would have ten dollars added.  We would handle taking all of the orders and payments ourselves.  You would just let us know if you were coordinating with others for a common drop site.  Of course, we're also happy to stop for a single order as long as the requirements above are met.
2016-17 Projected Delivery Dates for Orange and Durham Counties
December 7:  bed preparation & overwintering supplies, potting mixes
January 11:  early spring greenhouse grower supplies
February 22:  seed potatoes, spring grower supplies
March 22:  spring grower supplies
April 27:  spring grower supplies
May 23:  sweet potato slips, summer grower supplies
June 28:  summer grower supplies
July 26:  fall transplant supplies
August 30:  cover crop seed, fall growers supplies
September 27:  strawberries, garlic, cover crop seed

(We'll probably take a break October & November 2017 and deliver again first week of December, but we can revisit as a group next year.)
It is possible that additional dates may be added as growers communicate their needs to us.  Deliveries involving live crops will be timed closely with those crops arriving to our store so that we can guarantee you best quality seed stock or plants upon delivery.  We travel with a flat bed truck and trailer so deliveries will also be weather dependent and may need to be changed at last minute due to rain.
Lomax Incubator Farm Deliveries
In 2016, we began making runs to Lomax Incubator Farm for growers in the Charlotte area.  These deliveries are open to any area growers, not just those working directly with Lomax.  Let us know if you want to get on the Lomax delivery list to get emails about future deliveries to the area.
The Nitty Gritty of Lomax Incubator Farm Deliveries:
Place orders before scheduled delivery by phone or email.  Payment can be made over phone with a credit card or on delivery with cash or check.  Ask to get on the Lomax Incubator Delivery email list to receive notices of delivery dates.
A total delivery fee of $140 for us to make the run - This delivery fee will be divided among the total number of farm orders we receive... so if 10 growers order, each will pay $14 added to their order.
An additional $10 stop charge for any area grower who want us to deliver directly to his farm (This person will pay the divided portion of the Lomax delivery + $10 for the extra stop... may be worth it for larger orders.)
2017 Projected Delivery Dates for Lomax Farm Area Deliveries
January 5:  early spring greenhouse grower supplies
February 23: seed potatoes, spring grower supplies
April 6:  spring grower supplies
May 24:  sweet potato slips, summer grower supplies
July 6: fall transplant supplies
September 28:  strawberry plugs, seed garlic, , cover crops, fall supplies