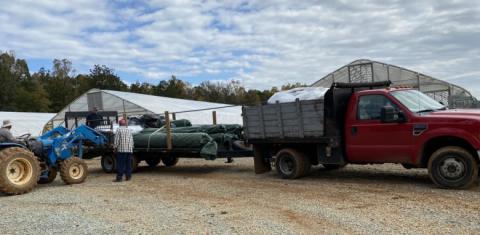 2020 Deliveries to Orange and Durham Counties and Lomax Incubator Farm
The Nitty Gritty of Orange and Durham County Farm Stops:
A $300 minimum order per stop (can be combined orders)
Enough room for us to turn around with an F350 truck pulling a 20' flatbed trailer without us getting stuck in the mud!
Place orders 3 days before scheduled delivery by phone or email.  Payment can be made over phone with a credit card or on delivery with cash or check.
Send an email to melinda@chathamfarmsupply.com and ask to be added to the Orange County Delivery Route email list to receive order reminders and deadlines.  
DELIVERY CHARGES:
FREE DELIVERY:  1-3 small items dropped off at a neighboring farm where I am already stopping with a larger order.  Have a last minute emergency?  Let me know, and I can drop it off somewhere for you.   
$20 DELIVERY:  3000 pounds or less -  This charge can also be split among multiple farms receiving delivery at a common location.   For example, 4 farmers receiving orders at one stop would each pay $5.  
$40 DELIVERY:  3000 - 6000 pounds or equivalent space on the truck/trailer.  We may or may not schedule this on the same day as one of our planned delivery routes depending on space on the trailer.  Your delivery may get scheduled for a different date.   
$75 DELIVERY:  6000 - 10,000 pounds or equivalent space on the truck/trailer - This is the maximum load we can haul and therefore would likely be a trip just to your location without other stops.  We would not schedule this on a delivery day but at an alternate time where our drive would come directly to you.   
2021 Projected Delivery Dates for Orange and Durham Counties
Tuesday, January 12
1st and 3rd Tuesdays in February Through October
Tuesday, November 9
Tuesday, December 7
Please note that seasonal product arrivals may require us to be flexible with this schedule from time to time, but we will attempt to stick to this delivery schedule as best as possible so everyone can plan accordingly.   We travel with a flat bed truck and trailer so deliveries will also be weather dependent and may need to be changed at last minute due to rain.
Seasonal, time-sensitive arrivals that may dictate delivery schedule adjustments:
Late February - seed potatoes
Late May/ Early June - sweet potato slips
Late September - strawberry plugs
Late September/ Early October - seed garlic
IMPORTANT:  We send out routine email reminders before each scheduled trip.   Please let us know if you'd like to received these reminders by emailing melinda@chathamfarmsupply.com.   Note:  This email list is different from our email newsletter.
Lomax Incubator Farm Deliveries
In 2016, we began making runs to Lomax Incubator Farm for growers in the Concord area.  These deliveries are open to any area growers, not just those working directly with Lomax.  We have farms travel from as far away as South Carolina and Hickory, NC to meet us in Concord.   Let us know if you want to get on the Lomax delivery list to get emails about future deliveries to the area.
The Nitty Gritty of Lomax Incubator Farm Deliveries:
Place orders before scheduled delivery by phone or email.  Payment can be made over phone with a credit card or on delivery with cash or check.  Ask to get on the Lomax Incubator Delivery email list to receive notices of delivery dates.
A total delivery fee of $140 for us to make the run - This delivery fee will be divided among the total number of farm orders we receive... so if 10 growers order, each will pay $14 added to their order.
An additional $10 stop charge for any area grower who want us to deliver directly to his farm (This person will pay the divided portion of the Lomax delivery + $10 for the extra stop... may be worth it for larger orders.)
2020 Projected Delivery Dates for Lomax Farm Area Deliveries
February 28: seed potatoes, spring grower supplies
May 22:  sweet potato slips, summer grower supplies, fall potting mixes
September 23:  strawberry plugs, seed garlic, , cover crops, fall supplies
We will gladly add more dates to this list, but we need to have enough growers participating to make this work for all involved!