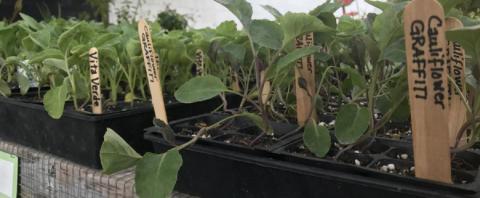 We're locked and loaded with Fall Garden Starts! 
The weather is cooling off!!  It's time to plant your fall garden. 
Don't wait too long to get your transplants and direct-seeded annual vegetables in the ground.  Plants are SMART.  Once October 15th rolls around (55 days from now), and even though the weather is pleasant & warm, plants can sense the change in day length and they will stop growing in any appreciable way.  They know cold weather is on the way and they will not put on more new, tender growth than they can support going into the fall and winter months.
The lesson here is...
Give your fall plants enough time to get up to size/maturity by October 15th. Otherwise, you'll only get what they were able to amass by October 15th and little else (unless you have a hoop house/greenhouse).  After October 15th, you will effectively be holding what you grew earlier in the field and the weather will quickly become refrigerator-like, and you can use your garden to 'hold' what's there until you are ready to harvest.  Keep an eye on the nightly lows to decide when you should harvest more tender crops and do so before hard frosts and freezes are predicted.  Root crops are a bit more protected, but still watch the forecast since damage to above-ground parts can impact the storage shelf life of your root crops.
Come by and visit our Garden Center for Fall Transplants
We're very well stocked with all of the following crops:
Broccoli
Brussels Sprouts
Cabbage
Cauliflower
Collards
Fennel
Kale
Kohlrabi
Lettuce
Swiss Chard
Radicchio
More to come... 
If you are looking for larger quantities of plants (at least a flat per variety) or are traveling a distance, feel free to call before coming, and we will hold plants for you!