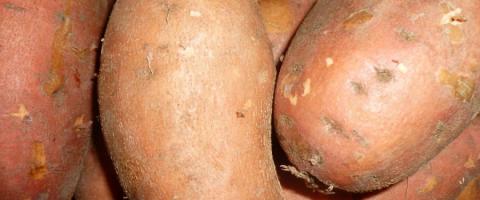 Sweet Potato Slips Now Available
Unlike most things this time of year, Sweet Potatoes LOVE the heat and thrive in these kind of conditions if you can provide them with a modest amount of water to get them going.  The planting window is still open for this productive summer crop until the end of the month.  
Additionally, Sweet Potato greens are EDIBLE & are delicious when lightly cooked!  If you love greens & miss the availability of cool-season kale & spinach, sweet potatoes can fill that gap in your diet.  The only recommendation in managing these prolific growers is to decide if you want your sweet potatoes for greens or for roots and manage them accordingly.  If you plan on continuously harvesting greens, that will take away plant resources for making roots, so keep some plants for greens and harvest the tips frequently and keep others for roots & let them run unhindered.