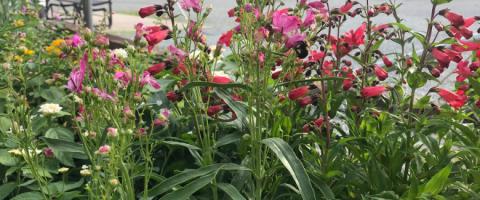 Fall Permaculture and Pollinator Workshop
What:  Wildlife Friendly Gardening - Welcoming the Birds, Bees, and Other Assorted Characters 
Who:  Lauri Lawson, North Carolina Audobon
When:  Saturday, September 21, 3-5pm
Where:  Country Farm & Home
How:  This is a FREE workshop!  Just let us know you are coming so we can allocate space!  
Gardening *for* the bugs??? Yes! and the birds, who depend on them to raise their young and thrive! This workshop will explore ecologically-friendly gardening techniques to encourage the beauty of birds, butterflies, bees, and other fascinating and important creatures we share our world with. We will learn the best shrubs and perennials to attract wildlife and create a beautiful landscape, and how to support a thriving ecosystem in your own yard. 
Lauri Lawson is a horticulturist specializing in native plant and ecologically-friendly gardening. She served as horticulturist and retail manager for Niche Gardens, Garden Supervisor for Plant Delights Nursery, and consultant for many wonderful garden projects, including the NC Museum of History Gardens in downtown Raleigh. 
This workshop coincides with our Bare Root Native Plant Order with Mellowmarsh Farm.   Come learn about native pollinator plants and choose what is best for your landscape.   You can order bare roots this fall and plant later this winter - the best time to plant!!!   
Please RSVP!!!   
We expect lots of interest in this event.  Please let us know you are coming so we have adequate space.  
Email Melinda @ melinda@cfhsupply.com
Call the store @ 919-542-3353
Stop in and let us know at the counter that you plan to attend!