Posted October 23rd, 2022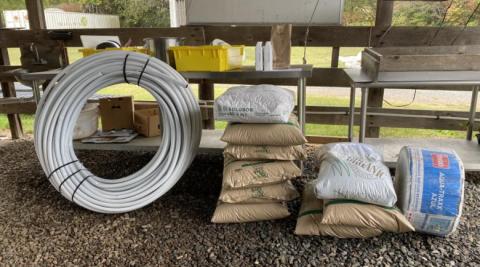 OUR CONCORD DELIVERY ROUTE INCLUDES THE FOLLOWING COMMUNITIES:  RAMSEUR, FRANKLINVILLE, ASHEBORO, RICHFIELD, MT PLEASANT, NEW LONDON, CONCORD with a culminating group stop at lomax incubator farm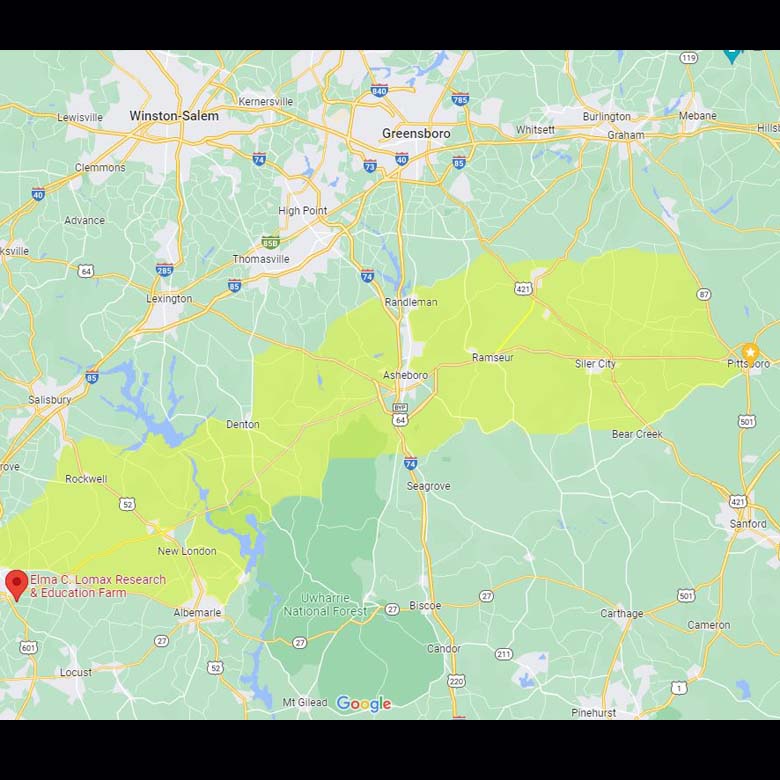 There are Two Ways To Participate:
1)  Delivery Straight to Your Farm - Place a minimum order of $300, have a large firm surface for us to turn around a 26' box truck, and as long as you are located in our delivery area (see above), we'll come to you. 
2)  Group Delivery at Lomax Incubator Farm - No order is too small for this group stop!   Participate in our group stop at  CFSA's Elma C Lomax Incubator Farm on 3445 Atando Rd, Concord, NC. 
The Nitty Gritty of the Concord Delivery Route Farm Stops:
Place orders 4 days before scheduled delivery by emailing melinda@cfhsupply.com.  Specify whether you want to receive delivery direct at your farm or at the Elma C. Lomax Incubator Farm group stop.   Payment can be made by calling the store (919) 542-3353 with a credit card number or on delivery with cash or check.  For routine customers, we also now have the ability to coordinate payment through an ACH bank draft.   Email melinda@cfhsupply.com if you are interested in more details about ACH payments.
Send an email to melinda@cfhsupply.com and ask to be added to the Concord Delivery Route email list to receive order reminders and deadlines.  
What can be delivered?  Basically anything we carry in the store with the exception of bulk mulch, compost, topsoil, live plants, and live animals (not joking).   
What do we sell?  Unfortunately, we don't have enough time and manpower to put all 5000 skus in our store online.  It's worth a visit to the store to see what is possible!  Vegetable producers will likely be interested in a copy of our Sustainable Ag Catalog.   Livestock producers will likely be interested in our line of locally grown and milled Non GMO feeds.
DELIVERY CHARGES:
LOMAX INCUBATOR FARM GROUP STOP - A total delivery fee of $160 will be divided among all participants picking up at the Lomax group stop.  This delivery fee will be divided among the total number of farm orders we receive... so if 16 farmers order, each will pay a $10 delivery fee.   Participation in this group order is active enough that individual delivery fees rarely exceed $20.   Spread the word and tell your friends so the delivery fee is low for everyone!
$30 DELIVERY:  2000 pounds or less delivered direct to your farm.
$60 DELIVERY:  2050 - 4000 pounds or equivalent space on the truck delivered direct to your farm.
$90 DELIVERY:  4050 - 7,000 pounds or equivalent space on the truck delivered direct to your farm.
$160 DELIVERY:  7,000 - 10,000 pounds or equivalent space on the truck delivered direct to your farm. This is the maximum load we can haul and therefore would likely be a trip just to your location without other stops.  We would not schedule this on a delivery day but at an alternate time where our driver would come directly to you.   
2023 Projected Delivery Dates for Concord Farm Area Deliveries
Late February: seed potatoes, spring grower supplies
Late May/Early June:  sweet potato slips, summer grower supplies, fall potting mixes
Late September/Early October:  strawberry plugs, seed garlic, , cover crops, fall supplies
We will be working in 2023 to add more dates to this delivery route.  If if would benefit your farming operation for us to deliver additional times during the year, we encourage you to complete our CFH Farm Delivery Route Survey.   
IMPORTANT:  We send out routine email reminders before each scheduled trip.   Please let us know if you'd like to received these reminders by emailing melinda@cfhsupply.com.   
Note:  This email list is different from our email newsletter.   It's also a good idea to subscribe to our email newsletter so you know when we are collaboratively ordering seasonal supplies and crops for farmers.  You can join our e-newsletter at the bottom of this page.
Want to Be Added To Our Delivery Route?  Take Our Delivery Survey