Posted January 17th, 2018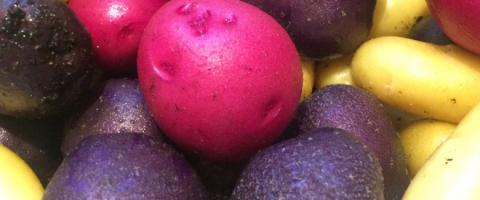 Double Certified Organic Seed Potatoes!
Update as of March 23:  There are at least of few pounds left of most of the varieties we ordered this year, and there are a hundred pounds or so of about a half dozen varieties.  We are overstocked in RED NORLANDS because a grower backed out on an order this year.  If you have some extra room and want to buy a hundred pounds or more, give Hillary or Melinda a shout to negotiate special pricing.
New for 2018:  Country Farm & Home Supply will offer two brand spanking new varieties:  White Giant and Raspberry, a stunning  red skinned, red fleshed variety.  Please note these varieties and terra rosa are in limited supply this year, so book quickly!
We are so excited to be offering over 30 varieties of organic seed potatoes from Grand Teton Organics for the 2018 growing season!  Based in Idaho, Grand Teton Organics came into being 6 years ago after owner John Hoggan purchased the business from Parkinson Seed Farm.  John has over 50 years of potato growing experience under his belt ranging from production, seed selection, plant breeding, seed stock certification and research & development of new potato varieties.  In his career, he has grown approximately 500 different varieties of potatoes. 
When your state's motto is 'The Potato State', you can rest assured that Idaho's Department of Agriculture takes growing potatoes to eat or to replant very seriously.  Stringent protocol to ensure seed stock is top quality and free of diseases are of the utmost importance to the state of Idaho and to Grand Teton Organics.  Field inspections throughout the growing season, lab testing of seed stock and a winter crop of seed potatoes grown in Hawaii all ensure that your seed potatoes are the healthiest, most productive seed potatoes available.  If at any time any of the lots of seed potatoes begin to show signs of disease, they are culled from the fields and not made available for sale to ensure that overall disease presence in potato production areas (yours or theirs!) stays as minimal as possible. 
Grand Teton Organics is committed to providing the highest quality organic certified seed potatoes available on the market.  Their seed production program is stringent, to say the least.  The journey starts at one of many Potato Germplasm Banks where propagation tissues are sent to the labs at Idaho State University.  Propagation tissues are grown out in the lab to produce clean plants that are as disease-free as possible.  These plants are grown in greenhouses to generate mini-tubers that then are sent to farms, like Grand Teton Organics, to be grown out in the field.  It is from these mini-tubers that full sized potatoes are grown.  Seed potatoes from Grand Teton Organics are no more than two field generations old; after two years of production, John will rotate the old stock out and replenish it with new mini-tubers to ensure that viruses, bacterial and fungal pests are not accumulating in his seed stock. 
After the seasonal harvest, John's seed potatoes are sorted, graded and stored at 36 degrees.  They will be shipped to us in mid-February in a climate-controlled truck that will keep the tubers at 36 degrees to maintain seed dormancy.  All seed is Certified Organic by both the Idaho Department of Agriculture and the Idaho Crop Improvement Association.  This commitment to excellence in seed production from Idaho is what we here at Country Farm & Home Supply want to offer to you, our valued family and friends.
For more information on growing and harvesting potatoes, check our our Frequently Asked Questions About Growing Seed Potatoes.
** Please note:  At this time we do not ship potatoes.  All orders must be picked up at the store or scheduled for delivery on our Orange and Durham County or Lomax Incubator Farm delivery route.