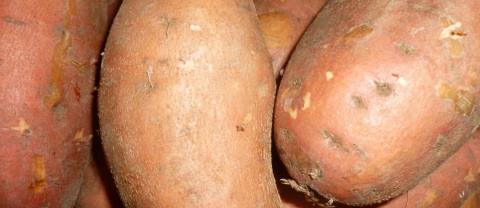 2018 Sweet potato Slips arriving June 4
Update:  Due to unseasonably cool spring temperatures, we have moved our original sweet potato slip date from May 21 to June 4.  The slips need two more weeks to reach perfection!  Our pre-order period is officially over.  If you need a few slips for a home garden (under 100 slips), then at this point, it's best to come in any time after June 5th and purchase extras out of our bins.  If you are grower who missed the boat and are in need of a larger quantity, contact us ASAP, and we'll do our best to help!
Our sweet potato slips are NC grown in the eastern part of our state, deep in sweet potato country.  We carry 9 different varieties, 6 of which are organic certified.
Pricing:  
25 slip bundle $4.95
50 slip bundle $8 
100 slip bundle $15
500 slip box $50
1000 slip box $75
We will have singles on sale in the store for small home gardens.
If you purchase different varieties, then we will be charging the price per variety.  In other words, 100 slip bundles of five different varieties will cost $15 x 5 = $75, not $50.  Sorry, but there's just a lot more handling involved! 
How to Order:
This part's easy!  Just send us an email, give us a call (919) 542-3353, or text Melinda at (919) 545-4429 and let us know what you want:  varieties and quantities.  Payment for smaller orders (fewer than 1000 slips) can be made at the time of pick up.  For folks buying boxes of 1000, we request a $25 deposit per box.  Deposits can be paid over the phone by credit card or by mailing a check.
Dates to Remember (updated for weather delays): 
Friday, (May 4) - Please get your orders to us by this date!
Monday, (June 4) -  Store pick up for whole box orders (1000 count)
Tuesday, (June 5) - Store pick up for smaller orders & general walk-in sales begin
Tuesday (June 5) - Delivery to Lomax Incubator Farm
Wednesday (June 6) - Delivery to Orange/Durham Farms
Organic Certified Slips:  Covington, Beauregard, Jewel, Murasaki, O'Henry, #122 Purple Skinned/Purple Fleshed
Conventional Slips:  Bonita, Carolina Ruby, Hernandez
Our conventional slips will come with a letter from the farm explaining that they were propogated from NC State and checked for viruses.  The letter also states that they are not genetically modified.  If you are a certified grower and are interested in a variety that is only available as a conventional slip, you should be able to provide your certifier with this letter and still be able to grow these slips.  Please always verify with your certifier before ordering!   
Sweet Potato Varieties
#122, Purple Skin, Purple Flesh, organic certified - This is a brand new sweet potato for us this year.  We are still awaiting more information from the grower and will  update our website when we have more details.  We can tell you at this point that purple fleshed sweet potatoes are nutritionally superior - high in antioxidants!  They also look super cool and will impress your friends and customers! Just chop one in half and put it on your market table!
Beauregard, organic certified– This is most likely the sweet potato that your grandparents grow and the variety most folks think of when they think of growing sweet potatoes in a garden. The beauregard has rose colored skin with light, moist, orange flesh. It is an excellent yielder with a shorter growing season – 90 days to maturity.
Bonita-  If you have a sweet tooth, this is the variety for you.  Bonita has twice the sucrose as Beauregard and O'Henry.  Tan/Pink skin over white flesh with a yellow tint.  90-100 days to maturity.
Carolina Ruby – This is a personal favorite of many market growers. A dark, red skinned variety with an orange, moist flesh, the Carolina Ruby produces good yields with excellent shape. It has excellent flavor and stores very well with little weight loss. 95-100 days to maturity.
Covington, organic certified – A commercial giant, 90% of commercial sweet potatoes are covingtons! The Covington grows well in many different types of soil; it has a rose-colored skin that is slightly darker than Beauregard with a moist, orange flesh. 95 days to maturity.
Hernandez- A longer-season variety of 120 days, this vine-type, very sweet variety produces very uniform roots with excellent yield. Dark orange skin with deep orange flesh.
Jewel, organic certified -  Developed at NC State, Jewel is prolific and well-adapted to southern growing conditions.  Disease resistance includes fusarium wilt, southern root knot nematode, internal cork and sweet potato beetle.  Light copper skin covers orange flesh that turns soft yellow and moist when cooked.  120-135 days to maturity.
Murasaki, organic certified -  A purple-skinned, white-fleshed variety from Japan with a nutty flavor and loads of vitamin C.  Good for baking, boiling or mashing.  Disease resistance includes southern root knot nematode and Fusarium root rot.   90-110 days to maturity.
O'Henry, organic certified  – The O'Henry has a white skin with creamy, white flesh and great flavor. It looks quite different in appearance from other darker skinned varieties but is a relative of the Beauregard with the same growing characteristics. It's a good yielder with a short growing season. 90-95 days to maturity.