Posted January 27th, 2021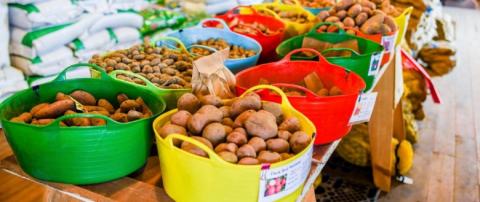 Updated as of March 11, 2021
Potatoes are over!   Check back this fall (early November) for our 2021-22 catalog.
Double Certified Organic and Conventional Seed Potatoes!
What's New for the 2021 Growing Season?
Reports from Idaho say that this was a great year for spuds.   Although some varieties are only available in limited quantities, most are plentiful!  That's great news!  We expect this to be our biggest year ever for potatoes with both growers planting more and home gardeners coming out in record numbers... at least that has been the trend since the pandemic started.   What does this mean for you?   Secure your order earlier because we will fill orders on a first-come, first-serve basis and do expect certain varieties to sell out quickly.   
In this year's catalog (linked at the bottom of this page), you'll find grower favorites back on the menu like Caribe, Desiree, and Gold Nugget.   Other hot spud news:  Our grower substituted organic Kennebec this year for a new variety to us, Cal White.  Cal White has the same prolific growth and culinary characteristis as Kennebec but with an earlier maturity.   For those who still must have Kennebec, we have secured some conventional Kennebecs at a low price from a different supplier. 
NOTE TO ORGANIC CERTIFIED GROWERS:  Some of our varieties in this year's catalog are not certified organic.  Please read carefully to make sure you make appropriate choices for your farm.   

About Grand Teton Organics
Based in Idaho, Grand Teton Organics came into being 6 years ago after owner John Hoggan purchased the business from Parkinson Seed Farm.  John has over 50 years of potato growing experience under his belt ranging from production, seed selection, plant breeding, seed stock certification and research & development of new potato varieties.  In his career, he has grown approximately 500 different varieties of potatoes. 
When your state's motto is 'The Potato State', you can rest assured that Idaho's Department of Agriculture takes growing potatoes to eat or to replant very seriously.  Stringent protocol to ensure seed stock is top quality and free of diseases are of the utmost importance to the state of Idaho and to Grand Teton Organics.  Field inspections throughout the growing season, lab testing of seed stock and a winter crop of seed potatoes grown in Hawaii all ensure that your seed potatoes are the healthiest, most productive seed potatoes available.  If at any time any of the lots of seed potatoes begin to show signs of disease, they are culled from the fields and not made available for sale to ensure that overall disease presence in potato production areas (yours or theirs!) stays as minimal as possible. 
Grand Teton Organics is committed to providing the highest quality organic certified seed potatoes available on the market.  Their seed production program is stringent, to say the least.  The journey starts at one of many Potato Germplasm Banks where propagation tissues are sent to the labs at Idaho State University.  Propagation tissues are grown out in the lab to produce clean plants that are as disease-free as possible.  These plants are grown in greenhouses to generate mini-tubers that then are sent to farms, like Grand Teton Organics, to be grown out in the field.  It is from these mini-tubers that full sized potatoes are grown.  Seed potatoes from Grand Teton Organics are no more than two field generations old; after two years of production, John will rotate the old stock out and replenish it with new mini-tubers to ensure that viruses, bacterial and fungal pests are not accumulating in his seed stock. 
After the seasonal harvest, John's seed potatoes are sorted, graded and stored at 36 degrees.  They will be shipped to us in mid-February in a climate-controlled truck that will keep the tubers at 36 degrees to maintain seed dormancy.  All seed is Certified Organic by both the Idaho Department of Agriculture and the Idaho Crop Improvement Association.  This commitment to excellence in seed production from Idaho is what we here at Country Farm & Home Supply want to offer to you, our valued family and friends.
For more information on growing and harvesting potatoes, check our our Frequently Asked Questions About Growing Seed Potatoes.
sorry we no longer ship potatoes!   
Sorry, but we do not ship small orders of potatoes (orders under 1,000lbs).  We are so busy sorting, packing, and delivering potatoes to our local farmers that we do not have the manpower to put orders in boxes and ship them afar.   We do offer a somewhat local farm delivery route throughout Hillsborough, Cedar Grove, Hurdle Mills, and Concord, NC, but if you have found us from the far reaches of the US, we encourage you to check out our supplier Grand Teton Organics in Idaho who is set up to ship.   
If you are located in the Southeast and are interested in partnering with us on freight to get your potatoes across the country, please contact melinda@chathamfarmsupply.com.    We never quite fill our refrigerated truck from Idaho and would love help from other local large farms or wholesalers in sharing the freight cost.