Posted September 18th, 2020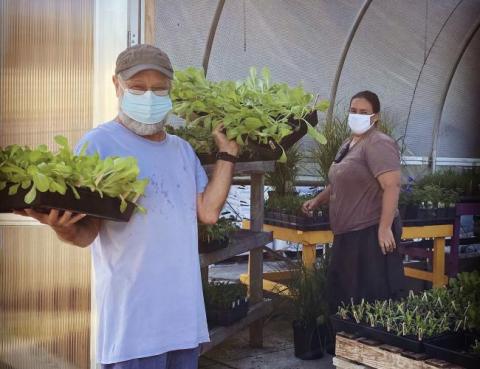 Fall Plants Arriving now!
We will update the spreadsheet at the bottom of this page weekly as new arrivals land in our garden center.
Sorry, We Can No Longer Hold Plants For You...
We have been overwhelmed by demand for plants this fall.  We are doing our very best to keep plants ordered, restocked, and rotating through our garden center.   When you call the store asking if a certain plant is available, we honestly do not know given the volume of sales and the constant rotation of plant material in those spaces, and we often do not have time to leave the counter where customers are standing and phones are ringing to go check availability.  Therefore, we are asking that plants be purchased on a first come, first serve basis.  If you have health concerns that prevent you from entering our store, we are happy to serve you from our outside spaces; just call into the store for assistance or flag down an outside employee for help.   To give you some insight into plant availability, we are offering these three modes of communication:
1)  Anticipated Weekly Plant Schedule - take note of the following:
Herbs & Flowers - often arrive on Tuesdays
Vegetable Transplants - often arrive Thursdays/Fridays
Fruit Trees - our one fall shipment arrived on September 11 - check the link below for updates on availability
Natives and other perennial bedding plants arrive more infrequently on an as needed basis.
2)  We Will Post Plant Arrivals to Instagram
Follow  us on Instagram at country_farm_home.  For years, we have dragged our feet on starting an Instagram page, but we recently joined the bandwagon and are finding that it is an "instant' way to let customers know what just arrived in our store, so that's how we plan to use it!   This will likely be the first way to know a plant truck has arrived at our store.
3)  We Will Continue to Update Our Plant Availability List Linked Below
By Friday or Saturday, we will update the spreadsheet below with what has arrived in our garden center that week.  It will at least give you a snapshot in time of all of the plants that were received over the week and with most plant arrivals happening on a Thursday/Friday, it should give you a relatively accurate view of availability, although keep in mind that plants are sometimes literally selling off of the trucks as they are being unloaded.   We note on the spreadsheet below when future arrivals are anticipated and when certain plants are winding down for the season, so reading this document will give you the best understanding of the flow of plant material in and out of our store so you can plan your purchases accordingly.