Posted September 14th, 2023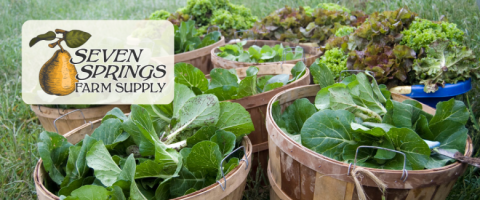 spring Seven Springs Truck fall Event 
pick up your strawberry plugs, alliums & your fertility at one time!
In the coming months we will be coordinating one bulk truck event per season with Seven Springs Farm Supply.   Although, we routinely receive truckload orders from Seven Springs, these bulk truck days offer us support from Seven Springs staff and give our customers the opportunity to chat with a Seven Springs staff member.  
Our next Truck Day: October 3rd
with SEven Springs Staffing on Site At Country Farm & Home
Coordinated with strawberry plug and garlic Arrival
How Do I Place An Order:
How Do I Get Questions Answered:
Most product questions can be answered on the Seven Springs Farm website.
Call Country Farm and Home at 919-542-3353.
Remember a Seven Springs staff member will be on site at pick up to answer grower questions!
Why Should I Participate?
Plan now for the growing season ahead!
Did we mention there will be a Seven Springs staff member on site to answer grower questions?
Meet other farmers from the area picking up products.
Save money!  Your pay Seven Springs Farm advertised prices with no additional shipping.
If we have a good turnout, we'll keep doing this!
Help Seven Springs Farm reduce their carbon footprint by making our store a centralized NC drop point.
Shop Country Farm and Home while here for all of your other grower needs (seed trays, irrigation, vegetable seeds, fencing, and so much more.)
Chat with us while your here about the delivery routes we are throughout the state.  Maybe we can make product sourcing even easier on you in the future!