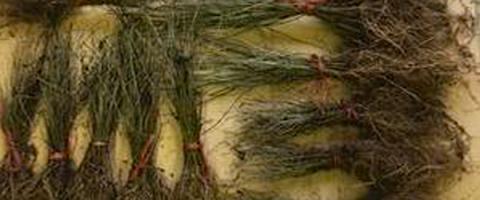 PLEASE NOTE:  Bare Root plants are for STORE PICK UP ONLY.  We are not able to ship these.
As things heat up, think about things cooling down...
It's time to plan what you want to introduce into your landscape this winter as dormant, bare root seedlings/plants.  Read on about bare roots or see the order form at the bottom of this page.
Bare root plants are a great, inexpensive and efficient way to fill out your landscape.  By installing them as young & dormant plants you reap many rewards. 
First, bare root plants are CHEAP!  Compared to buying potted plants that may be 2-5 years old, these little ones are 1-2 years old and only a few dollars each.
Second, planting is EASY.  By planting them young, many times all you'll need is a trowel!  No need for a huge hole; just enough to get the roots in the ground & you're done.  All of these are natives and do not require much special attention or pampering.  However, if you are getting fruiting plants, you may want to incorporate some phosphorus and potassium into the root zone to make sure they have access to those nutrients.
Third, bare root plants THRIVE NEXT SPRING.  Your bare root plants will get off to a running start when they break dormancy.  All winter, they continue to develop their root systems so when spring rolls around, your plants are in good shape to get growing!  Their small size works in their favor by having balanced above ground growth and below ground growth.  You may notice that bare root plants outperform containerized plants that have a lot of top growth but a proportionally small root ball.  As the season progresses, you'll notice you won't need to water as much as spring-planted trees/shrubs because of these same factors.
Submit orders in person, via email or over the phone.
No deposit is due.  A firm commitment to come pick up your stock when we notify you it has arrived is all that's required.  Please email your order to info@chathamfarmsupply.com.  We'll let you know we got your order immediately and will process it and send you an order confirmation within a day or two.  Please check your order confirmation for accuracy.  If it's been more than 3 days between the "Thanks; got it!" email and the order confirmation, feel free to give us a call to ensure that your order has been received. 
Plants are due to arrive in January 2024
The exact date will be announced via email in the late fall and is weather-dependent.  
BULK PRICING AVAILABLE:  Inquire sooner rather than later; items do sell out...
If you are doing any large installations and need bundles of 50 per species, better pricing is available.  Email us at info@chathamfarmsupply.com and we'll get back to you with a quote and availability.  Please note that plants may not be mixed and matched.; bundle pricing only applies to single varieties.  If your order totals 50 bare root plants of different varieties, the per-each pricing applies.
Learn More About Native Plants
All of our bare roots are coming from Mellow Marsh Farm, a local leader in native plants.   Check out their webpage as an excellent resource to learn more about specific plant varieties.  
See the link below for a list of availability and pricing.