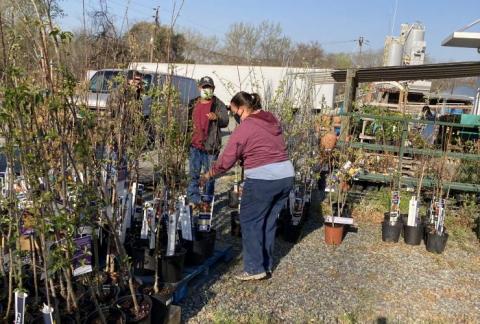 FRUIT TREES ARRIVED last WEEK and flowers & summer veggies keep rolling in!   
Look for plants to arrive multiple times a week with inventory building exponentially as temperatures warm.  We received our one and only spring shipment of fruit trees last week, so hurry on order before supplies dwindle.  Flowers and veggie starts continue to roll in with this week being a particular big week for plant arrivals.       The best way to check in on recent arrivals is to follow our e-newsletter and Instagram page where we will post photos and links to the spreadsheet attached at the bottom of this page each time it is updated.   
We Will Continue to Update Our Plant Availability List Linked Below
We will update the spreadsheet below weekly with what is available in our garden center.  It will at least give you a relatively accurate view of availability, although keep in mind that we anticipate plants sales to be brisk this season.   We will note on the spreadsheet below when future arrivals are anticipated and when certain plants are winding down for the season, so reading this document will give you the best understanding of the flow of plant material in and out of our store so you can plan your purchases accordingly.