Posted January 23rd, 2020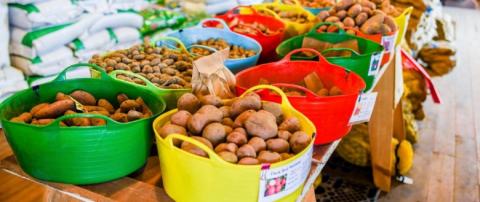 Double Certified Organic and Conventional Seed Potatoes!
Latest Update (As of March 24, 2020):
A note about the 2019 growing season:
2019 proved challenging for growers everywhere in the USA.  Unseasonable flooding, droughts and extreme weather events made planting, managing and harvesting crops incredibly challenging, in some cases, impossible.  Effects will be felt far and wide and at different times depending on the crop/product in question.  For us here at Country Farm & Home, we are at the forefront of crop shortages, delays and failures.  We're first in line to hear the news, good or bad, and we need to let you know 2019 was hard on Idaho.  Grand Teton Organic's had one of its wettest years on record.   Planting was delayed.  Harvest was delayed.  State-wide, over 15,000 acres will remain unharvestable due to flooding.  We are so fortunate to have a seasoned professional at the helm of our seed production.  Even though GTO was not exempt from these pressures, John still has plenty of seed for us and our 2020 growing season.  We have as many certified organic varieties as possible.  For the remainder of varieties, we were able to procure conventional seed.   For 2020, it's more important to us to have the variety selection we're accustomed to rather than have everything be organically certified.  Just another reminder to put your eggs in many different baskets to ensure a steady supply of omelets....potato omelets.

About Grand Teton Organics
Based in Idaho, Grand Teton Organics came into being 6 years ago after owner John Hoggan purchased the business from Parkinson Seed Farm.  John has over 50 years of potato growing experience under his belt ranging from production, seed selection, plant breeding, seed stock certification and research & development of new potato varieties.  In his career, he has grown approximately 500 different varieties of potatoes. 
When your state's motto is 'The Potato State', you can rest assured that Idaho's Department of Agriculture takes growing potatoes to eat or to replant very seriously.  Stringent protocol to ensure seed stock is top quality and free of diseases are of the utmost importance to the state of Idaho and to Grand Teton Organics.  Field inspections throughout the growing season, lab testing of seed stock and a winter crop of seed potatoes grown in Hawaii all ensure that your seed potatoes are the healthiest, most productive seed potatoes available.  If at any time any of the lots of seed potatoes begin to show signs of disease, they are culled from the fields and not made available for sale to ensure that overall disease presence in potato production areas (yours or theirs!) stays as minimal as possible. 
Grand Teton Organics is committed to providing the highest quality organic certified seed potatoes available on the market.  Their seed production program is stringent, to say the least.  The journey starts at one of many Potato Germplasm Banks where propagation tissues are sent to the labs at Idaho State University.  Propagation tissues are grown out in the lab to produce clean plants that are as disease-free as possible.  These plants are grown in greenhouses to generate mini-tubers that then are sent to farms, like Grand Teton Organics, to be grown out in the field.  It is from these mini-tubers that full sized potatoes are grown.  Seed potatoes from Grand Teton Organics are no more than two field generations old; after two years of production, John will rotate the old stock out and replenish it with new mini-tubers to ensure that viruses, bacterial and fungal pests are not accumulating in his seed stock. 
After the seasonal harvest, John's seed potatoes are sorted, graded and stored at 36 degrees.  They will be shipped to us in mid-February in a climate-controlled truck that will keep the tubers at 36 degrees to maintain seed dormancy.  All seed is Certified Organic by both the Idaho Department of Agriculture and the Idaho Crop Improvement Association.  This commitment to excellence in seed production from Idaho is what we here at Country Farm & Home Supply want to offer to you, our valued family and friends.
For more information on growing and harvesting potatoes, check our our Frequently Asked Questions About Growing Seed Potatoes.
Shipping Across the Southeast!
We are now shipping seed potatoes!  We do not have cold storage, so potatoes will be shipped soon after our truck arrives in late February.  Orders under 150lb. will be shipped UPS or USPS.  Orders over 150lb. will be shipped LTL on a wood pallet.  We will ship when temperatures are above freezing and are, therefore, limiting our shipping area to the Southeastern United States.  Order seed potatoes by either emailing, calling, or mailing an order form (see catalog and order form posted below).  We do not have an online shopping cart for potatoes.   Ignore the December 31 order deadline.  We will continue to process seed potato orders as long as we have availability and until the truck runs in February.    Please make sure to tell us when ordering if you require shipping.  Shipping charges are not included in the price of the potatoes.   We will work with UPS to ship.  UPS does not allow us to calculate shipping charges until time of shipping.  Will will not mark up shipping but will pass along whatever UPS charges us.   
We also offer store delivery throughout Hillsborough, Cedar Grove, Hurdle Mills, and Concord, NC.