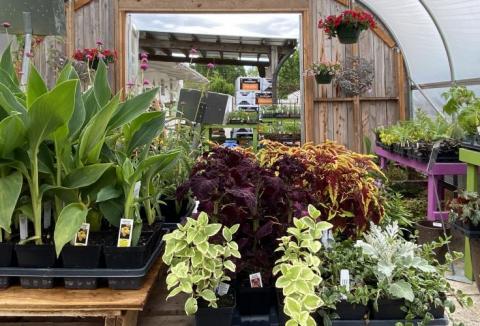 Summer Plant SALE!
Local Annual Veggie Transplants 50% OFF
Herbs, Flower, and Perennials 25% OFF
Sale does not apply to Bonnie Plants
Want to order plants for curbside pick up?
Here's our plan for pulling plants for customers to pick up...
Country Farm and Home Staff Members Will:
Order and Receive plants for our garden center 2-3 times a week.  There will be new plants flowing through for the next SEVERAL WEEKS!
Update a plant availability list twice a week (typically Tuesday & Friday mornings).  See link at the bottom of this page.
Pull orders for curbside pick up once a day, EXCLUDING Saturday.  We will call you when your order is ready to arrange payment and pick up.
Customers Wanting Curbside Plant Pick Up Will:
Look over the plant availability list posted to this newsletter or website before calling or emailing the store.
Email a list of desired plants to the store and your phone number.  If plants are ordered before noon, expect your order to be ready after 3pm same day.  If plants are ordered after noon, expect plants to be ready after 3pm the following day.  We will NOT pull plants on Saturdays, so any plant order received after noon Friday will not be ready for pick up until Monday afternoon.  
Keep in Mind:
These rules apply to customers wanting curbside pick up.  For curbside orders, expect a phone call after your plants are pulled to discuss any substitutions or shortages and to take payment over the phone.  We will tell you where your plants are located, and you will be able to swing by and pick up at your convenience. 
If you want to shop our outdoor spaces and pick out plants in person, you are more than welcome to do so and then to call into the store to arrange payment if you do not want to come inside to the counter.  This may be the quickest way to get exactly what you want given that we are selling out of plants so quickly.  Several of our plant trucks drop off on Thurdays.  Plant availability is at its peak at 8am Friday morning.