Posted October 21st, 2022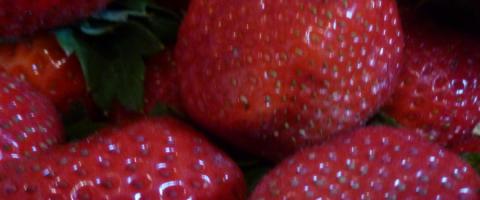 We will update this page with strawberry Plug order deadlines by June 2023 for Fall 2023 arrival. 
Many gardeners think spring is the time to plant strawberries.  That's because spring is the busiest time in most garden centers and, thus, the easiest time for a store to sell strawberry plants.  In fact, strawberry plants produce much better if planted in the fall and over-wintered for harvest the following May.  We pride ourselves in selling plants during their optimal planting times, which for strawberries is late September / early October!
We order our strawberry plugs from Cottle Farms in Eastern, NC.  Cottle's plugs are well established, rooted in soil, and ready to transplant when you get them.  Some will already have small runners starting.  They come in plug trays of 50 plants each.  We also cut trays in half and sell half trays to small growers and home gardeners.   
Please note that not all of the varieties below are available organically.  Please read carefully... 
Chandler – Available in conventional and organic.  Top seller with u-pick growers; fast growing plant with high yield.  Berries have good color & flavor, medium to large size, medium firmness, classic shape.
Sweet Charlie – Available in conventional and organic. Plants are vigorous and bear fruit 7-10 days earlier than Chandler.  Berries are very sweet, firm & large.  Easier to harvest because of large fruit size.
Camarosa – Available in conventional and organic. Plants have excellent early, mid, and late season production.  Fruit is large, conical shaped, and sweet with a longer shelf life.
Camino Real - Available in conventional only!  Camino real is a short-day cultivar.  Plants are more compact, open, and erect, but less vigorous than Camarosa.  Fruit is larger and per-plant yields are somewhat greater than Camarosa, but fruiting begins somewhat later.  External and internal fruit color is also darker.  Camino real is more rain tolerant than other strawberry varieties.
MOST POPULAR!  Ruby June - Available in conventional only! - These plugs are special!  Ruby June is a strong short-day variety that is more compact and has tighter plant architecture and leaf structure.  As such, Ruby Junes can be more densely planted and don't tend to perish in extreme rain events the way other berries sometimes do because they allow for more airflow and grow more off of the ground.  Ruby June has a darker exterior and interior color than most varieties.  The Ruby June is sweet and full of flavor.  This is our third year offering Ruby June, and we have had extremely favorable local grower feedback on this variety.  Ruby Junes are only available in conventional but have the same pricing as the organic varieties.
2022 Conventional Plug Pricing (Any Combination of Varieties except Ruby June)
½ Tray (25 plants) = $19
1-9 Trays (50 plants/tray) = $31/tray
10+ Trays (50 plants/tray) = $25/tray
2022 Certified Organic Plug Pricing and conventional ruby june
½ Tray (25 plants) = $21
1-9 Trays (50 plants/tray) = $33/tray
10+ Trays (50 plants/tray) = $27/tray
Payment 
We would appreciate a deposit of $10/tray at the time your order is placed.  We can process credit cards over the phone (Store # 919-542-3353), or you can send a check in the mail to Country Farm and Home, 203 South Small Streeet, Pittsboro, NC 27312.  No deposit is necessary for small, home garden 1/2 tray orders.
Important Dates to Remember 
Friday, July 1, 2022  - Order Deadline
Monday, September 26, 2022 - Strawberry Plugs Arrive at Store (weather & crop availability pending)
Tuesday, September 27, 2022 - Orange County Delivery Route (weather pending)
Wednesday, September 28, 2022 - Lomax Delivery Route (weather pending)
Order Early - Strawberry Fields are Not Forever
Every year we sell out of strawberry plugs, and that's without a pandemic!  All trends point to records sales and selling out earlier than ever this year.  In this case, the Beatles are wrong... Strawberry Fields are not Forever.  Order early to secure your plugs!