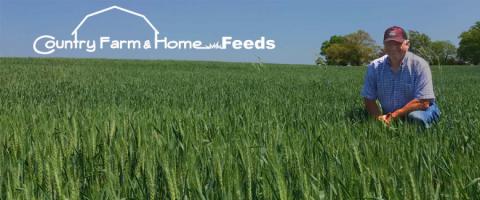 Country Farm & Home Non GMO Feeds
GMO Free.   
NC Grown & Milled.
Traceable.
Scientifically Formulated.
We are proud to be partnering with Jeff Bender of Bender Farms to bring you clean, nutritious, locally grown and milled feed.  Our line of non-GMO feeds are both affordable and healthy, focusing on a transparent supply chain and quality ingredients that will help you increase your farm's productivity and profitability.   The grains in our feed are traceable with the majority of them being grown on Jeff Bender's 500 acre farm and neighboring farms in Warren County.  The rations were formulated by Crystal Creek Natural in Wisconsin and are backed by scientific data to promote wellness and productivity in your livestock.  We thank you for trying our feed and welcome any feedback as we continue to develop and grow a feed program that will secure safe, healthy food for our friends and farming community.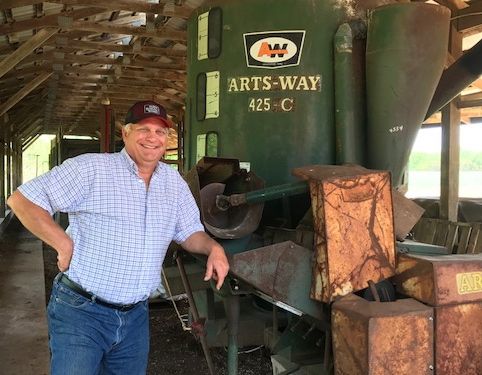 About Jeff
Watch a You Tube Video about Jeff's farm and feed program.   
Jeff got his start farming in the dairy business on his father's farm in the early 1990s.  Over the past 30+ years, Jeff has grown tobacco, produce, and grain crops using both conventional and organic practices. Since the start of our feed program in 2017, Jeff has transitioned away from tobacco.  Jeff currently uses practices of conservation, no-till, and crop rotation growing grains and legumes for our feed program, open-pollinated corn for seed distribution, and specialty corn crops for distilleries on over approximately 500 acres.  Crops Jeff is currently growing for our feed program include oats, corn, soybeans, and milo.   Additionally, Jeff has a roaster and roasts his soybean on site.   Jeff does not use any genetically modified seed in any of his farming practices.  Additionally, Jeff does not have any neighboring farms growing genetically modified crops, so we feel comfortable that cross contamination does not occur.    All of our feed is milled and bagged at Jeff's farm.  
How Can You Buy Our Feed?
Stop by our store. See the price list below for what we should always have in stock.   
Get our feed delivered on our farm delivery route to Orange and Durham County Farms.
Arrange for delivery directly from Bender Farms to your farm.  For locations close to Jeff's farm, we may utilize our trucks.  For more distant locations, LTL trucking will be used, so ordering full pallets of feed (40 bag increments) will spread shipping costs most efficiently. Call Melinda at (919) 545-4429  to inquire about shipping/deliver logistics.
Pre-order feed and pick up directly at Bender Farms.   How does this work?
Because Jeff is operating a 500 acre farm as well as a feed program, feed and other farm operations occur on alternating weeks.   Orders are due every other Sunday, and feed is ready to pick up by end of the week (either Friday afternoon or the following Monday afternoon).   Email Melinda at melinda@cfhsupply.com to be added to the order reminder email list for on farm pick ups.  Extra feed is typically not kept on hand at the farm, so on-farm feed pick up is available by order only.   
Email your feed order to melinda@cfhsupply.com by Sunday night on the milling week.  Note which feed pick up time you would like: Friday 4:30-6:30 or Monday 4:30-6:30.    Melinda will respond with a confirmation and follow up in the next 1-2 days with invoicing. 
Pricing for feed pick-up on farm is below in the right hand columns of our price list.  Customers picking up on-farm are charged wholesale pricing plus a small administrative fee, that's it!  
Payment should be made to Melinda through Country Farm and Home.  Most customers leave a credit card on file, but if interested in other options, contact Melinda (919) 545-4429.  Payment is not processed until after your pick up window has passed.  Any issues that arise during feed pick up should be texted to Melinda immediately so invoicing can be corrected before your card is charged.   
Pricing Update as of february 2022:   
As you aware, everything is increasing in price, and our feed is not immune.  Our recent price increase can primarily be contributed to the rising costs of minerals, and rising freight costs associated with the minerals and bags.  There have been slight increases in corn and soybean commodity markets as well.   The good news is that we have invested deeply in grains and minerals in hopes of stabilizing our current pricing for the next several months.   
NOTE:  The first price columns (blue) represent pricing for in-store pick up.   The last two columns (green) represent pricing picked up on the farm or shipped from the farm.   Please see notes above regarding procedures for picking up on farm.
BULK PRICING:  Bulk (per pound) pricing is for feed ordered in totes.  Our totes can hold either 500lb or 1000lb of feed.   In stock feeds can be ordered in increments as low as 500lbs.  Custom feeds must be ordered in increments of 1000lbs so the mill can function properly.   We have run out of used totes, so we now must charge a tote fee to help us offset our cost of new totes. 
500lb tote fee $8/tote
1000lb tote fee $10/tote
The tote fee does not fully cover the cost of our totes.  We appreciate customers continuing to return totes free of holes for reuse to help us keep our tote fee as low as possible.  We have been warned that overseas freight will drive up the next purchase of totes, so we want to get as much use as possible out of the ones recently purchased. 
FOR ORDERS 4 TONS OR GREATER, EMAIL melinda@cfhsupply.com FOR A SPECIAL QUOTE.
In-Stock Feeds At Country Farm and Home: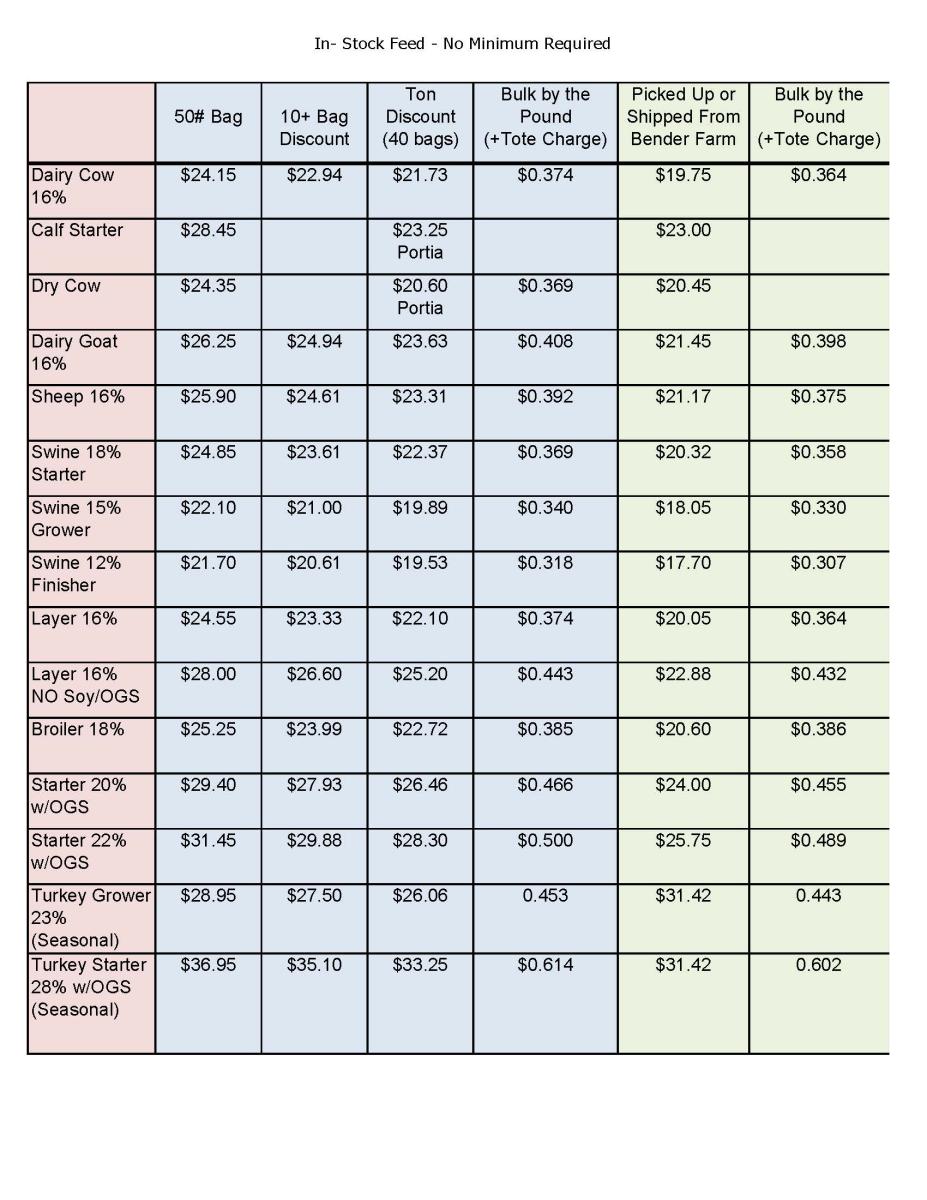 Pricing For Custom Feeds
Because the following feeds are not milled routinely and floor-stocked, ordering must occur in half ton increments (1000lb) so the mill can accurately mix ingredients. 
In addition to the custom rations below, we can work with our nutritionist at Crystal Creek Naturals to formulate other feeds for you!  There is a half ton minimum (1000lb) on any custom milling.    Custom milling can also include requests to add special inputs and/or change the size grind of the feed at no additional cost.  We never custom mill genetically modified grains, medications, or other inputs that could contaminate other batches of feed running through our mill.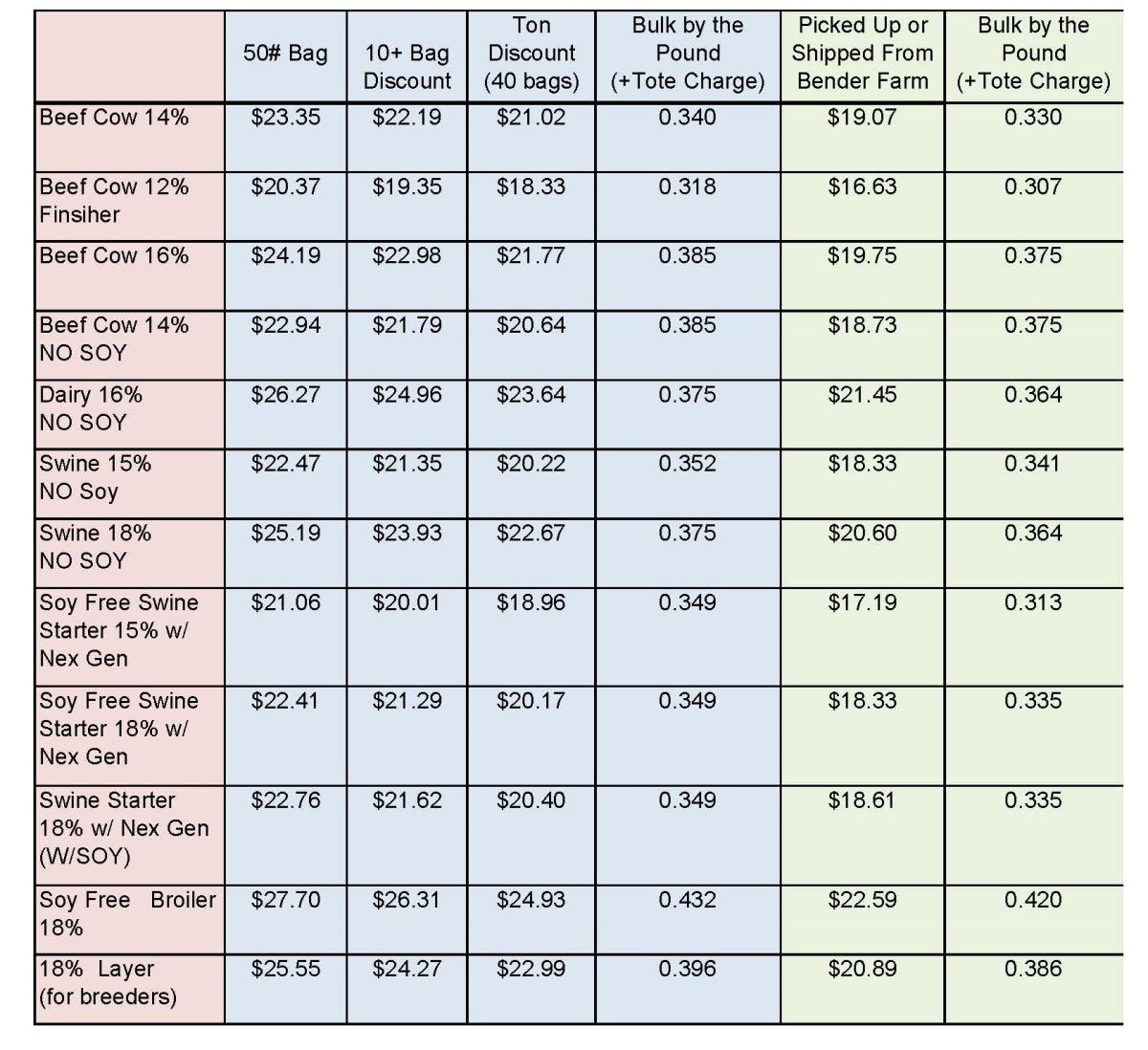 About Our Feed Tags and Ingredients
You'll notice links at the bottom of this page for our most common feed tags.  When we worked on each feed ration and designed the tags, we discussed at length how much information to include on each tag.  We chose to go with a more general description of "Grain Products" and "Forage Products" because we may need to occasionally change some of the grains in the feed seasonally depending on harvests and availability.  Having a more general ingredient list gives us the flexibility to make those changes without having to submit a new feed tag to the NCDA each time a change is made.  Having said that, if you ever want to know the exact ingredients in the feed, just ask.  We are happy to share with you each of the grains going into the feed and also when any of those grains may change through the year.  Our feed is always milled with whole grains, legumes, and a Crystal Creek ration balancer.   Depending on the ration, other ingredients may also include salt, calcium, and individual amino acids for improved digestion.   Send an email to melinda@cfhsupply.com to request any additional feed tag not listed below.  
Please do not hesitate to contact us should you have questions.
Melinda Fitzgerald – Sales
Jeff Bender - Manufacturing