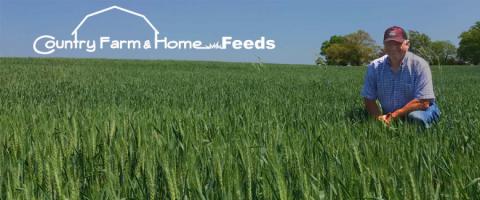 Country Farm & Home Non GMO Feeds Are Here!
GMO Free.   
NC Grown & Milled.
100% Traceable.
Scientifically Formulated.
We are proud to be partnering with Jeff Bender of Bender Farms to bring you clean, nutritious, locally grown and milled feed for your poultry, cattle, goats, and swine.  We have worked hard over the last year to develop a line of non-GMO feeds that are both affordable and healthy, focusing on a transparent supply chain and quality ingredients that will help you increase your farm's productivity and profitability.   The grains in our feed are 100% traceable to North Carolina Farms with the majority of them being grown on Jeff Bender's 500 acre farm in Warren County.  The rations were formulated by Crystal Creek Natural in Wisconsin and are backed by scientific data to promote wellness and productivity in your livestock.  We thank you for trying our feed and welcome any feedback as we develop a feed program that will secure safe, healthy food for our friends and farming community.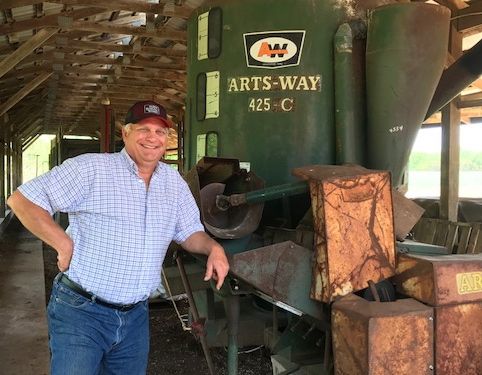 About Jeff
Jeff got his start farming in the dairy business on his father's farm in the early 1990s.  Over the past three decades, Jeff has grown tobacco, produce, and grain crops using both conventional and organic practices. Jeff currently uses practices of conservation and crop rotation growing tobacco, grains, and produce over approximately 500 acres.  Crops Jeff is currently growing for our feed program include wheat, oats, corn, soybeans, and barley.   Jeff does not use any genetically modified seed in any of his farming practices.  Additionally, Jeff does not have any neighboring farms growing genetically modified crops, so we feel comfortable that cross contamination will not occur.    All of our feed will be milled and bagged at Jeff's farm.
How Can You Buy Our Feed?
Stop by our store. We will have it in stock.
Get our feed delivered on our monthly routes to Orange and Durham County farms or our seasonal deliveries to the Concord area.
Pick feed up directly at Bender Farms.   Note:  you will still need to call us to arrange payment and pick up.  Jeff will not be keeping extra feed on hand at the farm and will need to mill your feed for you in advance of you coming.  All payment should be made through our store either by calling in a credit card or mailing a check in advance of pick up.
Arrange for delivery directly from Bender Farms to your farm.  If you wish to buy multiple tons of feed from us, we can arrange delivery from Jeff's farm to yours.
Pricing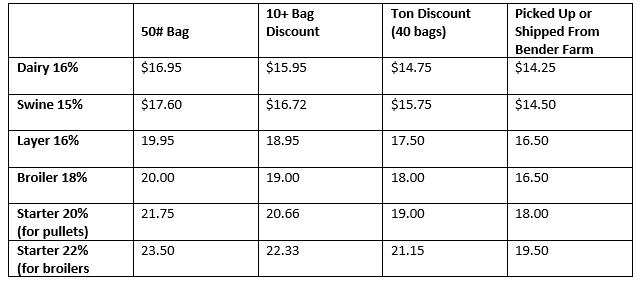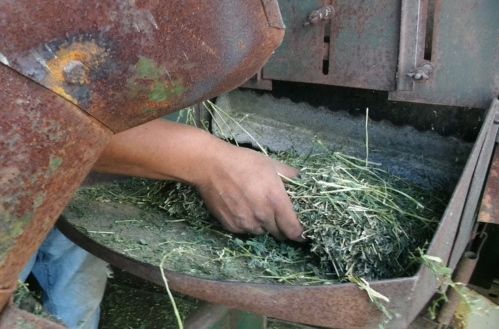 Custom Milling
In addition to the above rations, we can work with Crystal Creek Natural to formulate other feeds and can custom mill feed for you!  Just let us know your needs!   There will be a one ton minimum on any custom milling.    
About Our Feed Tags
You'll notice links at the bottom of this page to each of our feed tags.  When we worked on each feed ration and designed the tags, we discussed at length how much information to include on each tag.  We chose to go with a more general description of "Grain Products" and "Forage Products" because we may need to occasionally change some of the grains in the feed seasonally depending on harvests and availability.  Having a more general ingredient list gives us the flexibility to make those changes without having to submit a new feed tag to the NCDA each time a change is made.  Having said that, if you ever want to know the exact ingredients in the feed, just ask.  We are happy to share with you each of the grains going into the feed and also when any of those grains may change through the year.
Please do not hesitate to contact us should you have questions.
Melinda Fitzgerald – Sales
Jeff Bender - Manufacturing