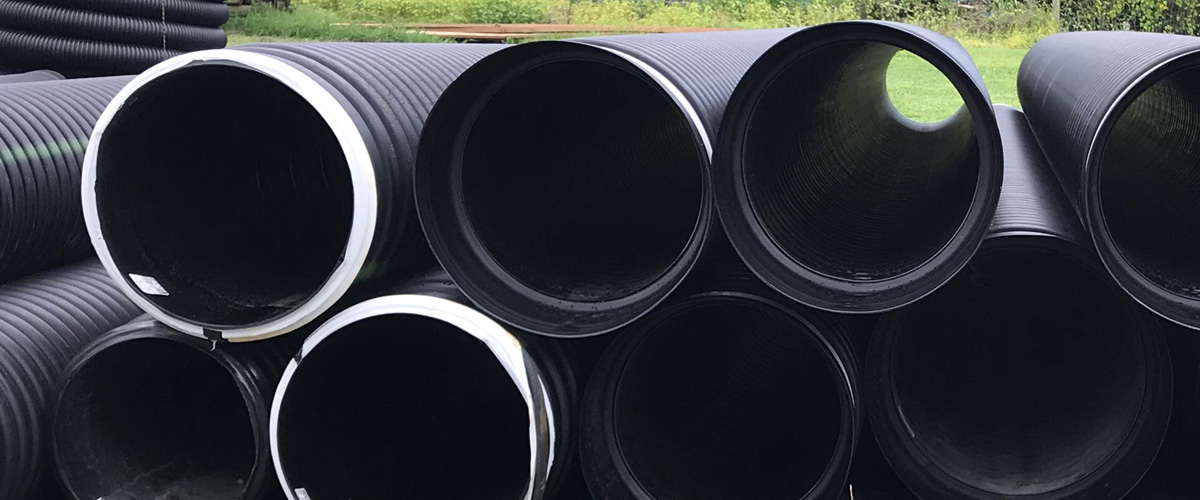 Seed & Straw
Have you cleared some land and need to get it covered?  We keep Kentucky 31, contractors mix, as well as cheap annual ground covers like millet and ryegrass here year-round to seed your area no matter how big or small.  We also have a trailer full of wheat straw, erosion matting, and silt fence here and ready to go at a moment's notice with discounted pricing for bulk purchases.
Drainage Pipe
We stock and move A LOT of DOT approved, plastic drainage pipe through this store!  We have competitive pricing on double walled sticks and keep plenty of inventory on common widths like 10", 12" and 15" with some limited inventory of smaller and larger sizes.  We can also special order non-inventory drainage items and have those here within a week. 
Topsoil, Compost, and Mulch
Contractors purchase topsoil, compost, and mulch from us frequently, either for us to deliver to the jobsite or for pickup in their own dump trucks.  Our top soil is a 50/50 blend from Brooks Compost.  Compost is from Brooks as well.  Our mulch is clean and triple shredded hardwood, fresh from a local sawmill.
Pine Straw
We turn our pine straw frequently.  It comes fresh from a family farm in the Southern Pines area, with good color, tightly baled.  We offer discounts for volume purchases.
Roofing
Did you know we have roofing?  Many customers don't because it's hiding in a metal shed off to the side of our main building.  Our customers tell us we have the best pricing around on 5 V galvanized metal roofing.  We stock 8', 10', 12', 14' and 16' sheets with a 5% discount on purchase of 10+ sheets at a time.  We can also special order painted metal roofing both in a 5V and rib loc pattern as well as trim pieces.  Custom roofing can be cut to size up to the inch so that you don't have to do any extra cutting on site.  Measure twice; have them cut once!  Special orders typically can arrive a week after ordering!