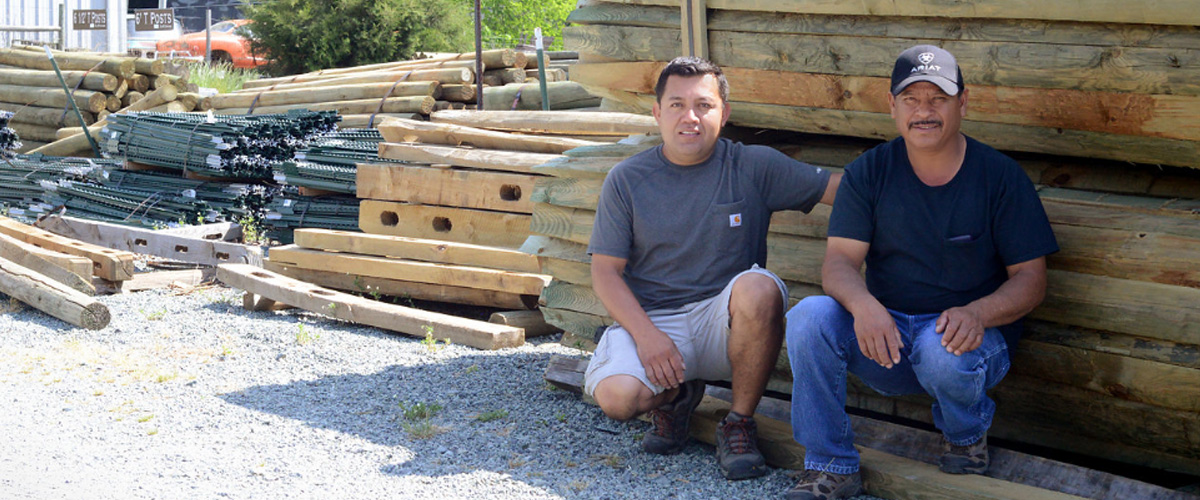 Heavy Duty Tenax Plastic Fencing
We buy all of our plastic deer fencing from Tenax , the industry leader in perimeter deer fencing.  This black plastic deer fencing, commonly referred to as C Flex, comes 7 ½' tall, is easy to install, and looks attractive, virtually disappearing into the background of your landscape.  It has a transverse strength of 685lb./ft. and a longitudinal strength of 377lb./ft.  We stock C Flex in 100' and 330' rolls for both small gardens and larger farm installations.   C Flex is commonly installed with 10' T posts or wood posts, UV stabilized cable ties to attach fencing to posts, and a guide wire at the top.  We have all of the necessary materials for you to complete your project as well as the knowledge to walk you through each step along the way.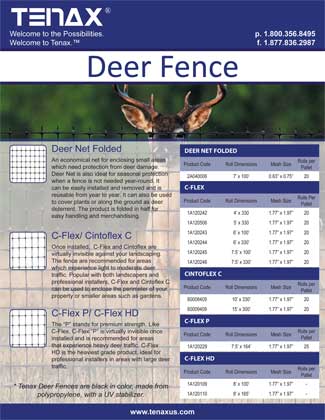 Wire rolled Fencing:  Woven, Welded, and Poultry
We purchase all of our wire fencing from Deacero, maker of Rangemaster Farm & Ranch fencing and Wright brand welded wire and poultry netting.  We have been very pleased with the quality and variety of products we receive from Deacero as well as the attention to detail and customer service.  Whether you're looking for woven livestock fence, welded dog fence, or poultry netting, we think you'll be pleasantly surprised by our selection of products, our volume of in stock inventory, and our low prices.

Wire Panels
Our panels are increasing in popularity as their applications are becoming more diverse.  We carry three sizes of 16' long panels:  a cattle panel with a 6"x6" spacing, a sheep & goat panel with a 4"x4" spacing, a horse panel with a 2"x4" spacing.  We recently also began stocking a 8' long handy panel, perfect for garden trellising and for easy transport with a small truck or trailer.  We are finding that these panels are being used less frequently for their traditional purposes and now more commonly used for creative home and garden projects.  We sell most of our cattle panels to be used as a durable trellis for vegetable plants that will last year after year.  And did you know the sheep and goat panel meets building codes for attractive (and economical) deck and porch railing?  If you want to see how it looks in use, check out our railing on the right side of our building or along our front steps.
Heavy Duty Metal T Posts
Our metal T posts come from CMC Steel and are 1.33# T posts as compared to the 1.25# T posts commonly sold in the box stores.  These numbers refer to the weight per linear foot of post, so this means our posts are heavier duty and will stand the test of time, hold up to larger applications, and withstand more pressure than the T posts more often found in the marketplace.  
Treated Wood Posts
We sell CCA treated, agricultural grade fence posts in a variety of diameters and heights for a range of applications.  We also sell split rail and horizontal board fencing.   Our wood fencing comes out of Madison Wood in Virginia where it is kiln dried.  This means our posts arrive to our gate fully cured, not "wet".  Quality is high.  Fence contractors especially prefer our fence boards to others on the market.  They are true rough sawn 1"x6" pine with a consistent look that will set your board fencing project apart from the rest.  
Electric Fencing
We offer an array of electric fencing supplies from solar and AC powered fence chargers in sizes that will accommodate the largest pastures to the smallest chicken run and all of the insulators, posts, ground rods and sundries to complete your project.  We have recently expanded our electric fencing selection to include products useful for rotational grazing such as geared wheels, different sizes of electric tape and rope, and electro netting in sizes for poultry and sheep/goats.   
Our electric fencing products come from Pasture Management, a leader in professional grade fencing products and superb customer service. .   We can order anything Pasture Management stocks, so if you don't see it on our shelf, let us know.
Have you never installed an electric fence before?  Most of us have and can walk you through the project step-by-step.  Also pick up a one of Pasture Management's manuals on our electric fencing aisle with great "how-to" tips and practical advice.
Gates
We stock farm gates for every need, from traditional six bar galvanized, red, and green painted gates to a couple of options with wire filling.  Our most popular gate is black with 2"x4" mesh filling, heavy duty gate hinges, and a dressy squared off top.  Whether you are dressing up your front entrance, keeping horses safely in a pasture, or creating a finished look for a community farm, we stock these gates in every size from 4' to 16' for your needs.  They are a definite favorite among our local fencing contractors who have us on our toes ordering more all of the time!