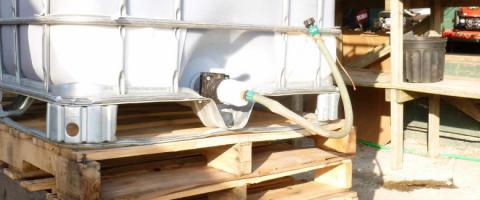 We know that fancy packaging and freight expenses can drive up the cost of a product dramatically.  We also know that a farmer's net profit is directly impacted by the cost of his inputs, so we are constantly working to sell farmers the inputs they need at the lowest costs possible.  If you are a farmer, here's some bulk items you should know about…
Harmony
Harmony Ag Organic Fertilizer w/ 9% Calcium, OMRI.  Made from 100% all natural composted poultry layer manure on a family farm in New York.  All purpose for vegetables, fruits, lawn and landscape.  Slow release for steady, long-lasting color and growth.  Analysis:  1% water soluble nitrogen, 4% water insoluble nitrogen, 4.0% P2O3, 3.0% K2O, 9.0% Calcium, .08% magnesium, 0.2% iron, 370 ppm Zinc, 40 ppm Coper, 0.65% Sulfur, 35 ppm Boron
When we started selling Harmony several years ago, we sold around 4 tons annually.  Now, we sell several tractor trailer loads a year, and that number continues to grow.  This growth allowed us to start pulling full truckloads of Harmony straight out of New York, keeping pricing as low as possible for our growers.  We offer 10 bag discounts and ton pricing as well.  Pricing can be found in our Sustainable Ag Catalog.
True Organics Liquid Fertilizer 4-1-3 OMRI
True Organics 4-1-3 liquid fertilizer is making its way from the west coast where large scale, commercial, organic California growers have grown to rely on it for years.  It's high in available nitrogen and is derived from acidulated fish solubles and reduced sugar molasses.  True Organics liquid fertilzer is triple filtered through 200 mesh screens to ensure easy application and no clogging of drip tape.  Unlike most fish fertilizers on the market, we particularly like that True stays very uniform in consistency and doesn't need to be agitated.  It looks a lot like a thick coffee.  
Application Rates: 25-50 gallons per acre or 2-3oz per gallon of water.
Directions for Application - Liquid fish based fertilizer can be applied several ways. Most typically it is mixed with water and applied to the root system through drip irrigation using drip tape or a "soil drench" using a common watering can. For soil drench apply 2-3oz per gallon of water and mix thoroughly. Use this solution to water vegetables or other plants at the base of the plant.
Liquid can also be used as a foliar spray.   Add 1oz per gallon of water to a spray bottle or Solo backpack sprayer and apply liberally to leaves of selected crop.
It is best to do this in early spring before there is much disease pressure. Do not foliar spray plants in the heat of the day or you risk burning the leaves.
We now bring in True Organics in a 275 gallon tote and sell it by the gallon at our new "fertilizer filling station".  Customers can bring their own containers to cut costs, or we can sell you a used, food grade 5 gallon jug or 55 gallon barrel.  We offer quantity discounts depending on how much you purchase at one time. Pricing can be found in our Sustainable Ag Catalog.
Ecoblend Organic Weed Control
Ecoblend is an organic weed killer made from fatty acids and soaps from vegetable oils and citrus extracts.  It will not harm beneficial ground insects or your soil, but it is an extremely fast and effective surface weed killer.  In fact, this product is the best one we've used for surface kill or a broad variety of weeds, and what's also great is that it's made right here in Pittsboro!  
In addition to stocking Ecoblend prepackaged in ½ gallon and 2 ½ gallon jugs, we also are stocking Ecoblend Organic Weed Control in a 275 gallon tote for bulk sale.  Per manufacturer request, we require a 5 gallon minimum purchase and sell it for $15/gallon.  You can bring your own container or purchase a used, food grade 5 gallon contianer or 55 gallon pickle barrel from us.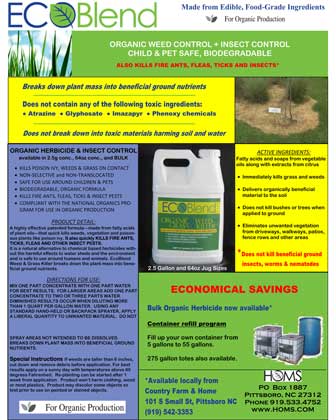 Are you organic certified?  Please note:  At present, there is an OMRI label on the 1/2 gallon and 2.5 gallon prepackaged weed killers on our shelves.  The 275 gallon tote contains a slightly different formula with a different blend of emulsifiers that allows it to stay in suspension a little better and work more effectively in the field.  HOMS, the manufacturer of Ecoblend does not have an OMRI label on this bulk product, however, they have worked with a number of certifying agencies to get this formula approved for organic growers, so if you are certified, your certifier may already have it listed as approved or we can work with you and your certifier to get it approved.  
Application Rates:  Ecoblend works best mixed at a 1:1 ratio, but for larger areas it can be diluted up to a 1:3 ratio.  Best to test an area to see how far you can stretch your dollar.  Results should be evident in a few hours.