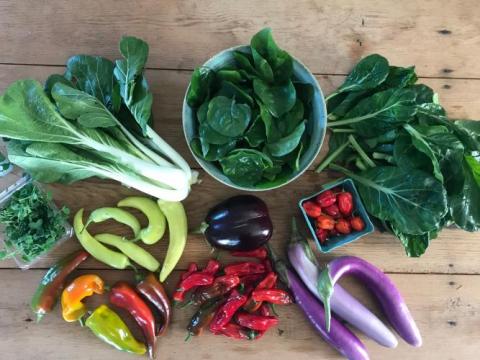 How to Support Our Local Farmers and Access Healthy Food
Keep in mind, our customer base goes well beyond Chatham County, so this list includes farms and food access across the Triangle.  It is also not a complete list.  We started this list as a response to the COVID-19 outbreak as we heard of farmers having to shift their food distribution models in the wake of restaurant closures.    If you are a farmer who wants your information included here, please write up your blurb and email it to melinda@cfhsupply.com.   We have organized the list alphabetically by farm name.  It is up to you to do the rest.  Contact information is available for each farm.  Please contact farms directly for additional information.  
CASWELL BLACKBERRY FARM #7062
Our blackberry farm is located in Caswell County. Our 3 acres of Prime Ark Freedom Blackberries are grown without use of chemical pesticides herbicides or synthetic fertilizers. We offer U-pick by the pound, curbside pre-pick by the pint or flat (6 pints).Follow us on Facebook or email to be added to contact list.  Directions: From Hillsborough take Hwy 86N for 18 miles turn right onto Barnwell Rd. Caswell Blackberry Farm is second drive on left. Check in at the Red Dutch Barn office! 
Beverly or Dean Brevit
133 Barnwell Rd
Prospect Hill, NC 27314
Office: 336-562-2116    Text: 919-805-0352
Facebook  caswellblackberry    caswellranchinfo@gmail.com
CATHIS Farm 
info@cathisfarm.com (910) 502-0348 
Pasture Raised Organic Fed Pork
Local delivery in Pittsboro and surrounding areas, on farm pickup in Lillington, delivery via NC Milk Man 
cathisfarm.com
 
Community of the Franciscan Way | Siler City, NC
www.cfw.dionc.org
Beef, Chicken, Eggs, Lamb, Pork, and Turkey
Contact: Joe Sroka | srokajoe@gmail.com
Details: Offering "drive-thru" service at locations in Asheboro, Chapel Hill, Durham, and Pittsboro as well as on-farm pick-ups. Ordering and delivery details on our website. Join our Flex CSA and receive bonus credits for online purchases.
 
Copeland Springs Farm & Kitchen
Contact: Kristin cell 919-244-6670 or 919-261-7211 (kitchen line)
Food available: Farm to Table meals from food from our Certified Naturally Grown farm. Vegetables and eggs will be posted as available. Contact-less curbside pick up
Where & how available: https://www.copelandspringsfarm.com/online-ordering or by phone.
overall website: www.copelandspringsfarm.com 
 
Dinner Bell Farm
Farmers John and Stephanie Campbell: dinnerbellfarmnc@gmail.com
Market garden veggies (chemical-free, all the varieties seasonally) and pastured pork and eggs.
Deliveries to:  Snow Camp, Saxapahaw, Burlington, and Elon every Thursday afternoon.
https://dinnerbellfarmnc.com/ 
Farmbelly
Michelle Aronson, michelle@farmbelly.com, 314.369.8140
https://www.farmbelly.com/
Wide variety of organic vegetables, herbs, edible flowers, flower bouquets, locally baked breads, as well as locally made dips/sauces/value added products. We also offer vegetable and herb seedlings for home gardeners. 
I also teach farm to table cooking classes (video classes available), and consult on home gardening. 
Order online by midnight on Sundays, pick-up at our farm on Tuesdays from 2pm-6pm.  Contactless ordering and pick-up!
Online farmstand: https://www.farmbelly.com/farmstand
Fickle Creek Farm
Efland  NC
http://www.ficklecreekfarm.com/
www.facebook.com/FickleCreekFarm
Selling free-range eggs, pasture-raised meats, and naturally-grown produce at:
Chapel Hill Farmers' Market
Durham Farmers' Market
Western Wake Farmers' Market in Cary
Farm Store Hours Fri 9 a to 6,  Sat 1:30 to 3 p,  Also by Appointment
Place your orders at http://bit.ly/shopfcfnow
Haw River Mushrooms
Haw River Mushrooms is a family farm in Saxapahaw, NC that features fresh mushrooms, immune boosting tinctures, pre-packaged mushroom jerky as well as frozen lions mane "crabcakes".   They have all the product lines available for wholesale, pre-order for pick-up or delivery, at our open daily farm stand and through our CSA. For more information email: info@hawrivermushrooms.com or go to https://www.hawrivermushrooms.com
Honey Bee Hills Farm
Honey Bee Hills Farm grows certified organic produce in Prospect Hill, NC. We are offering home delivery on Fridays to Hillsborough, Durham, north Chapel Hill, Roxboro, Yanceyville, and surrounding areas. We are also accepting preorders for pick up on the farm in Prospect Hill on Saturdays from 3-5pm. You can learn more about our farm on our Facebook page (https://www.facebook.com/honeybeehillsfarm), and you can order for home delivery or pickup here:  https://honeybeehillsfarm.square.site/
Machaven Farm
Tiffanie Jackson
(336) 639-2976
Pasture raised pork, stew chickens, and eggs.
Available by ordering online or by phone.  On farm pickup or delivery within a 15 mile radius of the farm. 
www.machavenfarm.com
 
Mighty Tendril Farm
mightytendril@gmail.com
Visit our website at www.mightytendril.com to sign up for our newsletter and place online orders. We have produce and flower CSA shares available for delivery to Greensboro and Chapel Hill/Carrboro/Hillsborough areas. 
 
Minka Farm
farmer@minkafarm.com or 919-304-4999; Grassfed Beef, Pastured Pork, Goat, Lamb, Pastured Chicken & Duck Eggs; Send an email with your order. We'll pull it and email you the total. You can PayPal it or bring a check. Pickup from a sanitized cooler at your scheduled time.  If delivery is needed, indicate your location so we can determine your distance. Learn more at MinkaFarm.com
 
Mi Tierra Farm LLC, Pittsboro
Contact information Andrea Cardinal 919 6706388
What food you have available: Many vegetables starting early May (CSA)
Where and how your food is available: Fridays 5-7 pm 5015 Wickham Rd, Raleigh and Mondays a second location depending on customers
Mitierrafarmnc@gmail.com
 
Phoenix Farm
Hi, my name is Jackson Holt, owner/operator of Phoenix Farm located in McLeansville, between Greensboro and Burlington. I grow fruits, vegetables, and plant starts without the use of synthetic fertilizers or pesticides. Our only market, Durham Farmers Market, is shut down, so we put together a website where you can submit your order online and pick up on-farm (without getting out of your car, if you prefer!) We are thinking Wednesdays and Fridays from 3-6pm for pickup, but like and follow us on Facebook to stay up to date with when and where we will be selling. We only have a few items available currently but that will change quickly in the coming weeks. Thanks so much for supporting us in a crazy time such as this! Check us out here:
https://phoenixfarmonline.square.site/
https://www.facebook.com/Phoenix-Farm-604381229755600/
Jacksonholt@gmail.com
Cell: 336-209-1120 
1631 Mt Hope Church Rd, McLeansville, NC 27301
 
Red Roots Farm
Red Roots Farm is located in Chatham County and uses sustainable methods to grow seasonal produce without the use of chemical pesticides, herbicides, or synthetic fertilizers. Kristen Scheckelhoff is available by email at redrootsfarm@gmail.com and Jason Butler is available by phone or text message at (919) 932-0070. We attend three farmers' markets weekly: Chatham Mills Saturdays 8-12, Pittsboro market Thursdays 3-6, and Fearrington Tuesdays 4-6. We are also offering a CSA with pickups in Siler City and Pittsboro. We can accept farmers' market pre-orders and CSA subscriptions online at redrootsfarm.com
 
Reverence Farms
Reverence Farms delivers to drop-points throughout the Triangle and Triad. Find a drop location near you or suggest a new one at reverencefarms.com/locations. Shop our full catalog at https://reverencefarms.com/store. We have ready-to-heat meals made with food from our own farm, as well as 100% grassfed A2A2 raw pet milk, organically fed chicken, turkey and pork; 100% grassfed beef and lamb. Full catalog available 2 business days after order for pickup at our farm store (6956 S NC Hwy 87 Graham NC 27253); quick-order items (select "quick order" drop-down menu for pick up) available next business day at farm store. Contact us at reverencefarms@gmail.com or 336-525-2266.
 
Sauer Family Farm, LLC
contact is Eric Sauer, 910-850-1257
Pasture raised Beef, pork, chicken, and turkey
Available for online purchase with home delivery
learn more at sauerfamilyfarm.com 
 
Sweet Retreat Orchard
We grow a wide variety of microgreens, you can pre-order live microgreen trays in two sizes: 4x5 and 10x20
We also have home growing kits available in two sizes: 4x5 and 10x20
Pick up in South Durham and Hillsborough, email us for up-to-date times and locations.  Contact Aniko and Phil at info@SweetRetreatOrchard
More information on our website: https://sweetretreatorchard.com/
 
TerraStay & Multiple Farm Online Store: 
Produce, Milk, Pastured Meats, Microgreens, Eggs
All farms are small, clean, local, family production
Store Link:  https://app.barn2door.com/e/9EdJ5/all 
10% off During Covid19 crisis - code Sax10
Picks Ups:  Raleigh & Saxapahaw
Call/Text 919-601-0415
We are also offering limited short term front porch drops to folks in need/high risk. $4 delivery fee for 5-mile radius of Sax Gen.
 
Urban Teaching Farm, Greensboro NC
Farm@outofthegardenproject.org- Lilly Emendy, Farm Manager
We are a non-profit teaching farm that produces  vegetables, fruits and herbs on an acre in the heritage Warnersville neighborhood. We offer weekly/bi-weekly customized boxes with multiple pick-up location/day options in Greensboro. Find out more at: www.harvie.farm/signup/urban-teaching-farm
Additional Resources That Were Shared:
Some readers said these lists are being circulated, too...
https://docs.google.com/spreadsheets/d/1g47H9peJzZKDjMp1tGLW1pVjorczHJWpklmFwRHezyI/htmlview
https://www.google.com/maps/d/viewer?mid=11Ac3lBpByit8TEQ0g0_E4U_O6Mi6e399&ll=35.76231725663973%2C-79.09410736992186&z=10