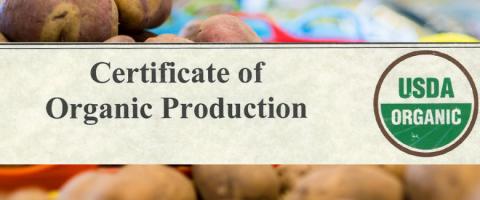 Organic Certification Documents for Seasonal Crops Available Here...
We bring in four organic certified crops per year: seed potatoes, sweet potato slips. strawberry plugs, and seed garlic.  We will try to keep up-to-date certification documents for these crops here.  Please don't hesitate to ask if you have questions or cannot find what you are looking for.
Special Note About potatoes
Organic certification documents posted below for potato crops will always look like they are a year behind schedule.  Why?  Keep in mind the seed potato you planted this spring was harvested in Idaho the year before.  Therefore, the document for this year's seed potato will always be dated for the previous year.   
Special Note About Garlic
Our German Hardy Organic seed garlic comes from Somerset Farm in NC.  The certification document for that seed garlic is attached at the bottom of this page.  All other organic varieties that we offered in 2021 and will offer in 2022 come from Filaree Garlic Farm.  All of Filaree's garlic is organic certified.