Posted February 14th, 2022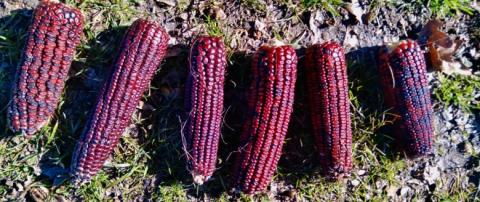 tHANK YOU FOR YOUR INTEREST IN OUR CORN
Update as of February 14, 2022:
We have discontinued corn sales until next harvest.  Our partnering farmer, Jeff Bender, does still have a limited supply of Jimmy Red corn on hand, but as we gear up for spring, we no longer have time to process and sell it for him.  If you are interested in whole bag quantities only, you can contact Jeff directly at 252-432-4950.  
The next harvest and sale period is planned for October/November 2022, depending on weather.   If you would like to be put on an email list to receive notice as soon as our new harvest is available for sale, email melinda@cfhsupply.com
Grow Your Own Grits... And More!
Jimmy Red is an open pollinated, heirloom, vibrant-red, dent corn.   Jimmy Red seed nearly went extinct in the early 2000s when the last SC bootlegger growing it passed away, but it's made a comeback and is now hot on the culinary and spirits scene.   We've heard it makes a mean cornbread but also has an unusually high Brix content for field corn and therefore can also be harvested in the milk stage for roasting.    It has a uniquely large germ giving it a more pronounced flavor than other field corns.
Open pollinated seeds tend to have a wider variety of genetics than hybrids and can perform inconsistently when planted.   This seed corn is particularly unique because it was grown and harvested just north of us at Bender Farms in Warren County.   (Jeff Bender of Bender Farms is also the farmer responsible for our private line of Non GMO feeds.)  Jeff and his crew hand selected ears from strong performing stalks during this year's harvest, and therefore, the generation of seed you are getting is better adapted for our local climate.  
We're selling both seed quality Jimmy Red kernels for planting in fields and gardens as well as corn intended for milling, distilling, and brewing.  We encourage you to try some now, and if you like it, get some seed to grow in your garden this spring.   
Check out this NPR Story:  From Hooch to Haute Cuisine:  A Nearly Extinct Bootlegger's Corn Gets a Second Shot

Jeff Bender in one of his corn fields.
How to Use:
Make killer cornbreads, hush puppies, and grits (Mill in a coffee grinder, Vitamix, or tabletop corn grinder)
Use for craft distilling and brewing
Harvest in the milk stage for roasting
Plant in a Three Sisters patch (corn, beans, and squash)
Grow for a splash of fun, fall decorating; it's stunning!
How To Plant In a Garden Space:
12" spacing on rows, 30-36" between rows   (Figure 10 pounds per acre as a seeding rate)
Plant in a square plot rather than a couple of rows to encourage pollination
80-100 units of Nitrogen per acre (~2 units of Nitrogen per 1000sq.ft)  Resist over-fertilizing as it will cause corn to grow too tall and fall over.
95-115 Day Maturity
Our Corn Is Untreated!  Store Accordingly:
We have made a conscious decision NOT to treat this corn with pesticides.  In warm conditions, (a heated kitchen pantry), weevil eggs can hatch.  Maybe you've experienced this with flour or corn meal that sits too long.    We believe the majority of our customers don't want to consume pesticide residue, even though this may be a common agricultural practice in grain preservation. We  have also had organic growers reach out to us requesting untreated seed corn for planting.   We recommend storing your corn in a cool location to prolong its life (i.e. cold storage, freezer, basement, etc).   
Pricing of Jimmy Red (for Seeding)  
Corn intended for replanting has been hand harvested, shucked, and selected from the middle of the ear for consistent kernel size and ease of use with a seed planter.   Samples have been sent to the NCDA, and seed comes with a tag noting purity, test date, and germ rate.  
By the Ounce - $3.00 (80-100 kernels per oz)
1 pound - $20
5 pounds - $40
10 pounds - $60
25 pounds - $100
Pricing of Jimmy Red (for Milling, Distilling, and Brewing)
Corn intended for milling, distilling, and brewing comes from the ends and middle of the ears and can have variability in kernel size.  It is mechanically harvested unlike the seed corn which is hand harvested.   Your bag will contain a mix of whole and cracked kernels.  This corn is intended for processing and consuming rather than planting.
2.5 pounds - $12
5 pounds - $18
10 pounds - $25
25 pounds - $35
We are currently harvesting this year's crop!
As corn is harvested, shelled, and cleaned, orders will be processed and shipped out.  Expect a two week lead time between placing orders and your order shipping out.    
shipping in the continental us:
Shipping will follow standard USPS flat rate prices regardless of zip code.  The maximum weight per box is 25lb.  Anyone ordering 50lbs will receive two boxes and pay two shipping fees.    For orders of 100+ pounds, contact Melinda directly at melinda@chathamfarmsupply.com. 
1 pound or less - USPS small flat rate box - $10.99
1.5 pounds - 10 pounds - USPS medium flat rate box - $17.99
25 pounds - USPS large flat rate box - $23.99