Posted October 16th, 2020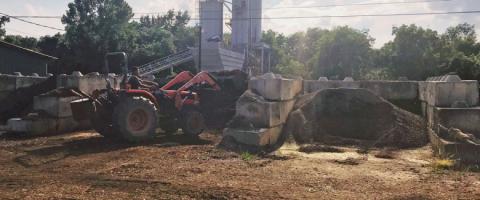 Need a mask? Just ask!
As you may already know, we now have a state mandate effective 5:00pm, June 26 of wearing face coverings in public spaces.  We are thrilled to announce that the Chatham County health department has supplied us with masks for us to hand out to customers arriving at the store without a face covering.  
We also want to ask you to PLEASE keep your distance from our employees working in outdoor and warehouse settings.   These employees lift thousands of pounds every day as they rotate inventory and load your cars and trucks.   The state mandate does not require them to wear face coverings unless they are within six feet of you, so we ask that you maintain a minimum six foot distance so they can work comfortably without risk of heat stroke, oxygen deprivation, and headaches brought about by wearing face coverings in their strenuous work environment.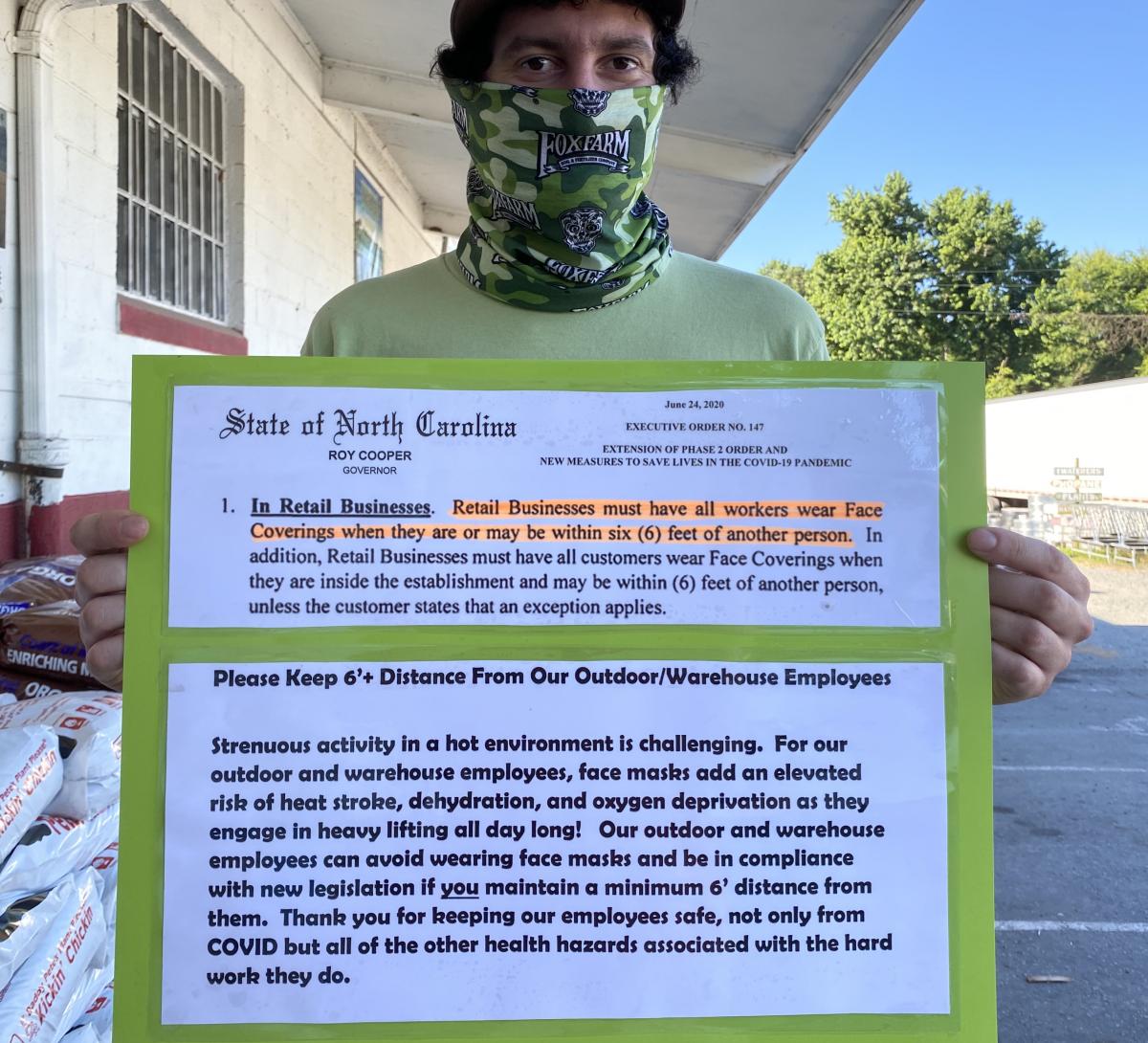 many ways to shop with us
Shop Inside
We have a big space, and there is plenty of room for you to walk around our yard, warehouse, and showroom while practicing safe social distancing if you prefer to pick things out yourself.
Shop Outside / Call Inside
If you want to shop in our open air plant areas or look at fencing, hay, panels, gates, and the other items we have in our yard but do not want to come in, then you can do so.  Just browse outside, pick out what you want, and call inside when you are ready to pay (919) 542-3353 or flag down one of our outdoor employees to help.  We can take your order and payment over the phone or an employee can radio it into the counter without you coming into the showroom.
Call in your order from home
Place an order and pay by credit card over the phone.  (919) 542-3353.  As long as your order DOES NOT include plants, we can have your order ready in just a few minutes.  Tell us when you call whether you want to have us load you when you get here or if you want us to leave your order on the north side of the building for you to load yourself.  
Email your order
Send your shopping list to melinda@cfhsupply.com.   This may be an easier way for all of us to handle larger orders, but we need more lead time because we do not read email all day.  Expect us to check email first thing in the morning and again at noon.   If you want to pick up your order same day, make sure you send the order by 8am.  Include a phone number in your email so we can call you for payment and/or to discuss any questions we may have about your order.   
 
Delivery
Place an order and payment over the phone.  Currently we are handling deliveries on a first come, first serve basis and trying to keep two trucks rolling when we can.  Currently, expect a 2-4 day wait time on delivery.   
 
Delivery Fees for normal delivery are as follows:
Within City Limits:  $15
5-10 Miles from Store:  $25
10-15 Miles from Store:  $35
15-20 Miles from Store:  $50
Please note that a "normal delivery" is one where we can send one driver who can quickly unload and be back on the road.  If we have to send additional manpower for heavy lifting, unhitch trailers on your property, and in other ways extend our stay and labor at your farm, we will need to adjust the delivery fee accordingly.  
Cedar Grove, Hillsborough, Hurdle Mills farm deliveries happen on a monthly basis for $20 per stop.  You can find more details and our annual delivery schedule here.