Posted October 23rd, 2022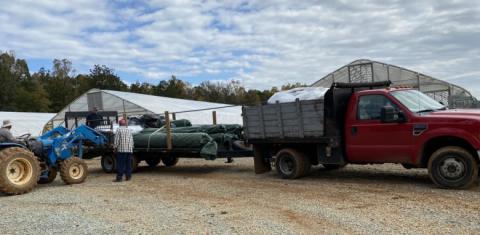 Our northern Orange Delivery Route includes the following communities:  hillsborough, hurdle mills, cedar grove, rougemont, bahama, timberlake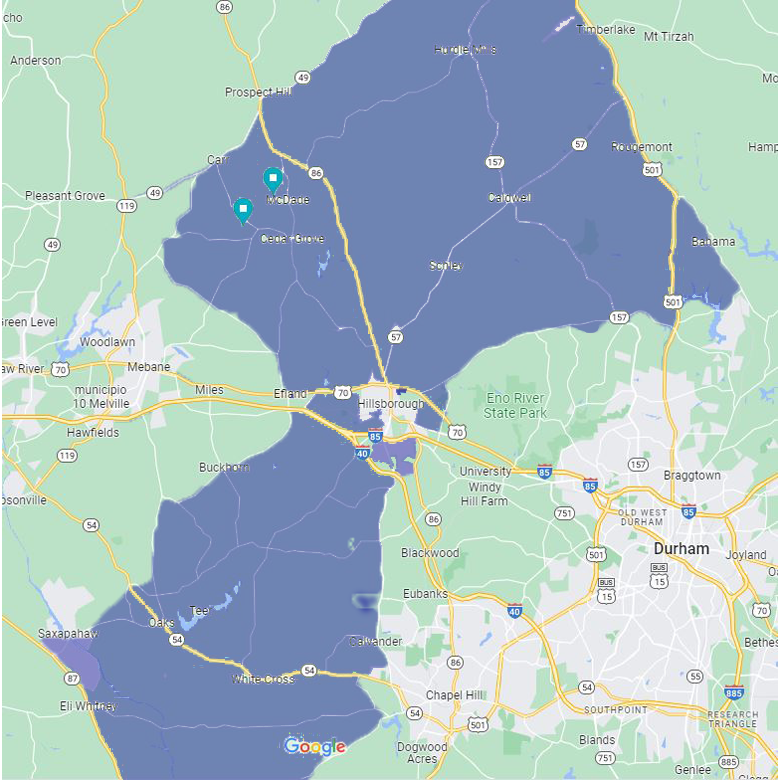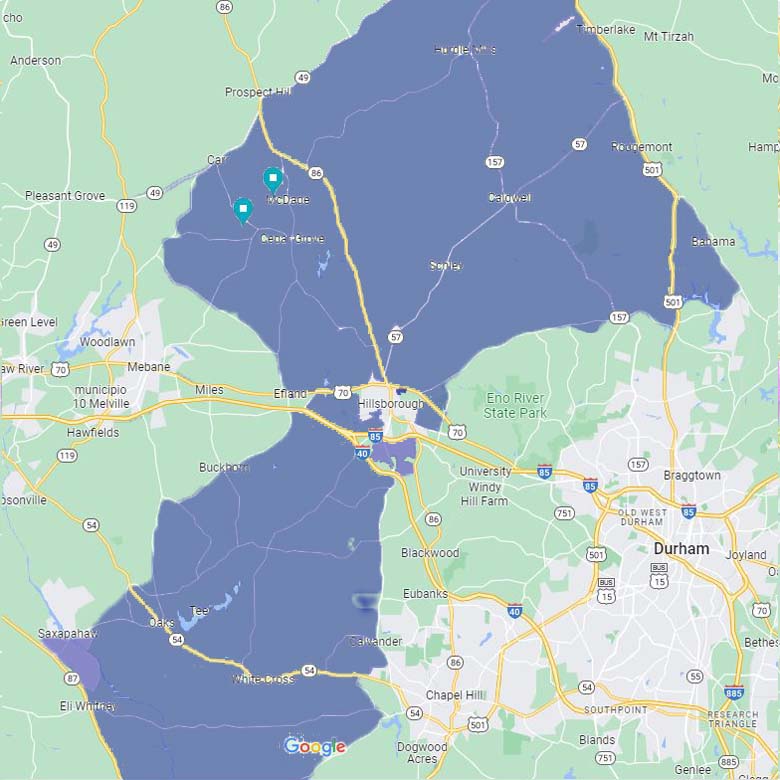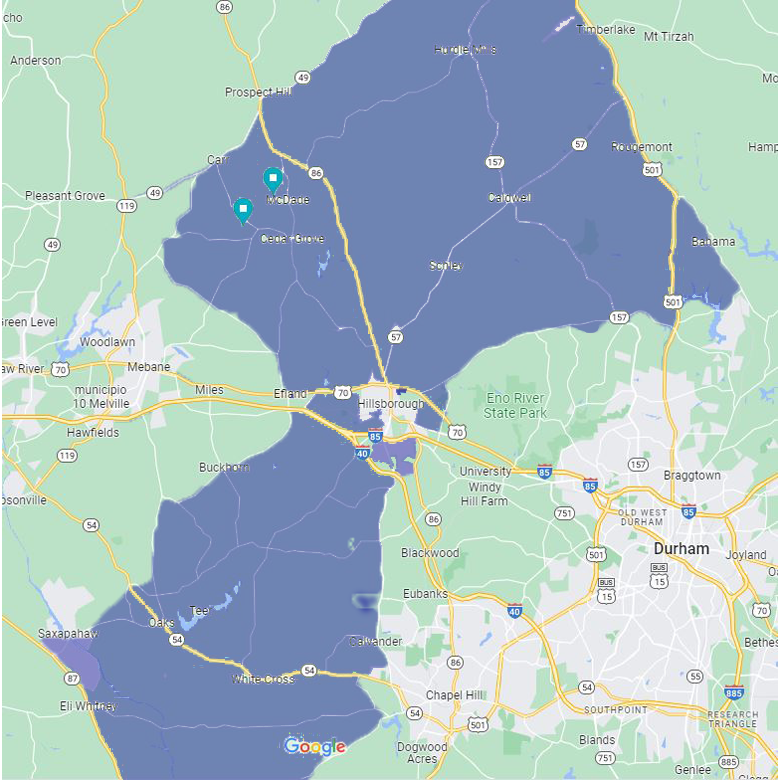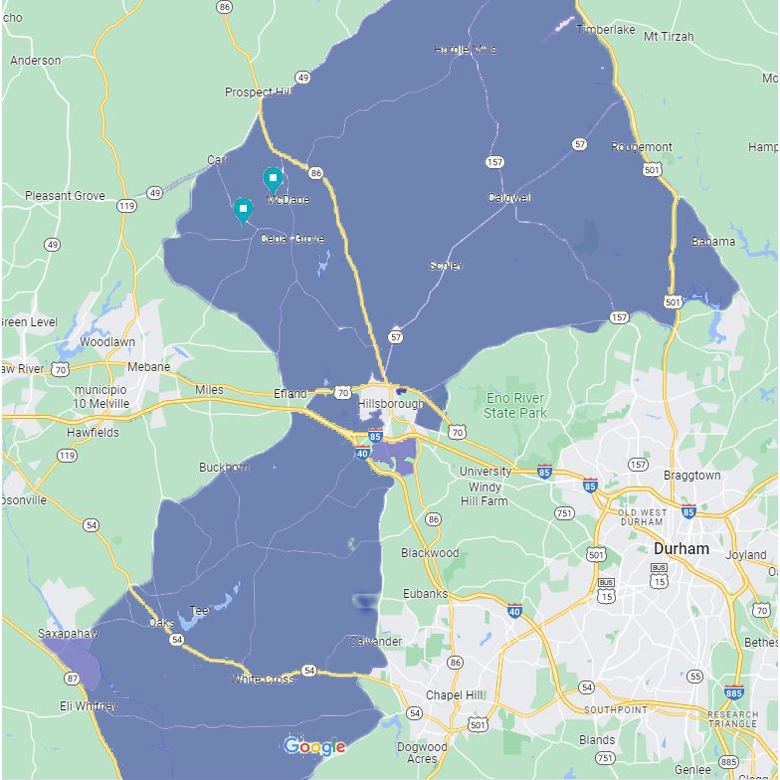 The Nitty Gritty of our Northern Orange County Farm Stops:
A $300 minimum order per stop (can be combined orders)
Enough room for us to turn around on gravel or hard surface with a 26' box truck!
Have small orders or a small driveway?  We have regular group stops at Breeze Incubator Farm at 4909 Walnut Grove Church Rd in Hiisborough and Popes Tire (now CW Tire) on Hwy 86 in Cedar Grove. When you email your order, just clarify which bulk stop you prefer if you are a new customer.
Place orders 3 days before scheduled delivery by emailing melinda@cfhsupply.com.  Payment can be made by calling the store with a credit card number or on delivery with cash or check.  For routine customers, we also now have the ability to coordinate payment through an ACH bank draft.   Email melinda@cfhsupply.com if you are interested in more details about ACH payments.
Send an email to melinda@cfhsupply.com and ask to be added to the Northern Orange County Delivery Route email list to receive order reminders and deadlines.  
What can be delivered?  Basically anything we carry in the store with the exception of bulk mulch, compost, topsoil, live plants, and live animals (not joking).   
What do we sell?  Unfortunately, we don't have enough time and manpower to put all 5000 skus in our store online.  It's worth a visit to the store to see what is possible!  Vegetable producers will likely be interested in a copy of our Sustainable Ag Catalog.   Livestock producers will likely be interested in our line of locally grown and milled Non GMO feeds.
DELIVERY CHARGES:
FREE DELIVERY:  1-3 small items dropped off at a neighboring farm where we are already stopping with a larger order.  Have a last minute emergency?  Let us know, and we can drop it off somewhere for you.   
$30 DELIVERY:  3000 pounds or less -  This charge can also be split among multiple farms receiving delivery at a common location like one of our group stops.   For example, 3 farmers receiving orders at one stop would each pay $10.  
$60 DELIVERY:  3000 - 7000 pounds or equivalent space on the truck/trailer.  We may or may not schedule this on the same day as one of our planned delivery routes depending on space on the trailer.  Your delivery may get scheduled for a different date.   
$90-120 DELIVERY:  7000 - 10,000 pounds or equivalent space on the truck/trailer - This is the maximum load we can haul and therefore would likely be a trip just to your location without other stops.  We would not schedule this on a delivery day but at an alternate time where our driver would come directly to you.   
anticipated Delivery Dates:
2nd & 4th Tuesdays of Every Month
Please note that seasonal product arrivals may require us to be flexible with this schedule from time to time, but we will attempt to stick to this delivery schedule as best as possible so everyone can plan accordingly.   
Seasonal, time-sensitive arrivals that may dictate delivery schedule adjustments:
Late February - seed potatoes
Late May/ Early June - sweet potato slips
Late August - cover crop seed
Late September - strawberry plugs
Late September/ Early October - seed garlic
Late December - Vermont Compost bulk orders
IMPORTANT:  We send out routine email reminders before each scheduled trip.   Please let us know if you'd like to received these reminders by emailing melinda@cfhsupply.com.   Note:  This email list is different from our email newsletter.   It's also a good idea to subscribe to our email newsletter so you know when we are collaboratively ordering seasonal supplies and crops for farmers.  You can join our e-newsletter at the bottom of this page.