Posted October 25th, 2022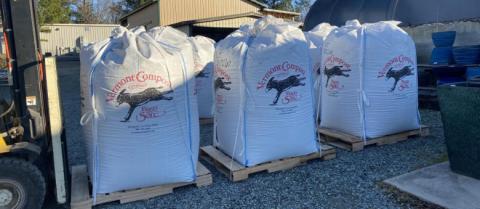 The 2022 fall/winter order has already been placed, but we can order vermont compost for you through seven springs farm year round.
Check back next fall for a group pre-buy.
fyi:  Here were the details for 2022:
Order Deadline:  Saturday, October 22
Pricing for Fort Vee or Light 2 Cubic Foot Totes:  $619 + Shipping from VT
Pricing for Fort Vee or Light 27 Bag Pallet (60qt bags):  $875 ($32.40/bag) + Shipping from VT
Must order whole pallet(s) or tote(s)
Payment by cash or check required to get best pricing
Price increases on the way - If you don't order now, expect to pay 2023 Tote Pricing $790, 2023 Bag Pricing $47.25 
Last year shipping ran $127.30 per pallet/sling.   We will do everything we can to secure the best freight rate possible.  Currently, we are anticipating freight to run similar to last year if not slightly lower.     We will not formally bill you until we have a shipping quote.   We expect to receive a shipping quote as our load is ready to leave VT.   Shipping cost will be calculated by taking the truckload freight cost and dividing it equally among all totes/pallets on the truck.   If we end up with a partial truckload, Seven Springs will share the load with us, so trucks will ship full from Vermont.  Additionally, we are coordinating a bulk truck of Seven Springs supplies to come at a similar time as this Vermont Compost truck.  That way any farmers traveling to the store to pick up Vermont Compost can pick up other supplies to get a head start for 2023 (and a tax write-off for 2022).   More to come on the bulk truck later.   
Prices quoted above are for payment by cash or check.   We are trying to keep your price down and therefore have not built in margin to cover credit card fees.  
Fort Vee or Fort Light?
Bags or Totes?
How Many?
Delivery or Store Pick Up?  (Delivery included at an additional $20 per tote or sling to Chatham County, Hillsborough, Hurdle Mills, Cedar Grove, and Rougemont communities)
Firm commitment required at time of order.   Payment not required until pick up.