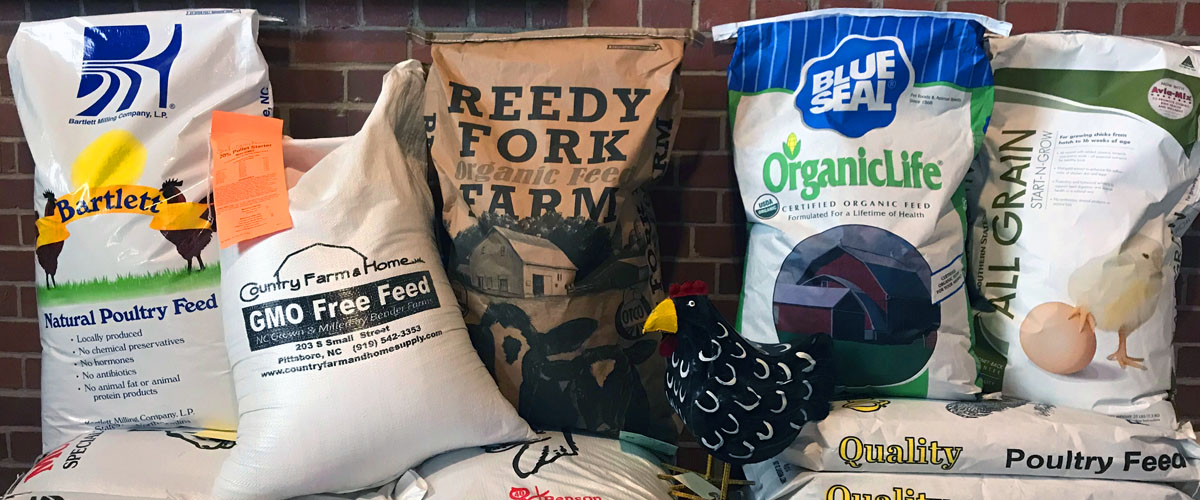 We may offer just about everything short of your kitchen sink at our store, but at the heart of it all, we are a feed store.  Always have been, always will be.   We strive to provide our customers with a broad selection of fresh, quality feeds by carefully monitoring our feed inventory, checking mill dates for freshness, and rotating our feed routinely as new feed comes through our doors. We offer feed from eight different feed mills, so we're certain we can help you find the best feed for your needs, whether you are looking to feed profitable livestock, beloved pets, or pasture ornaments. If you're looking at changing feeds, come see us and we can look at a feed comparison guide to match protein, fat, fiber, and trace minerals to your existing feed. Even if we don't stock the perfect feed for you, we routinely special order for our customers and would be happy to explore adding a new feed for you to our regular order schedule. For the first order or two, we will ask for a deposit, but after we've established a routine order with you, your feed will come in like clockwork with our regular truck orders.
Discounted Purchases
We offer a 5% discount to anyone buying 10+ bags at a time, and a 10% discount to anyone buying a ton.  Different kinds of feed can be mixed and matched for the 5% discount.  The 10% discount is available to customers purchasing one type of feed on a wooden pallet - forklift handling only.
country farm and home non gmo feeds
That's right, we now have our own line of feeds!  Launched in the spring of 2017, we formed a partnership with Bender Farms in Warren County to create a 100% traceable, grown in North Carolina, Non GMO Feed for poultry, swine, and dairy.   Most of the ingredients are grown on Jeff Bender's farm and all are GMO free.  All ingredients are sourced in North Carolina with the exception of Crystal Creek minerals we use for our ration balancers and alfalfa meal which we make from the horse quality alfalfa hay we purchase from family farms in Ohio and sell through our store.   Jeff mills the feed, and our customers can choose whether to pick up at our store or directly from the farm for additional savings.  We also ship feed from Jeff's farm to customers far and wide who are looking for a clean, reliable, quality feed for their animals.   
Sunrise Farms feed
Before we started our own line of feeds, we got our start with Non GMO feed through Sunrise Farms.  Sunrise Farms is a family farm and feed mill in Stuarts Draft, VA that was put on the map thanks to their neighboring rotational grazing farmer, Joel Salatin of Polyface Farms.  We still rely on Sunrise Feeds to fill the soy free portion of our non GMO market and regularly keep their soy free layer and soy free swine in stock.  We also keep their non GMO cracked corn and cracked peas here for folks wanting to provide a healthy treat or mix their own feeds.   We are happy to special order anything from Sunrise Farms we don't normally stock but require some advanced notice as we only order Sunrise Feeds about once a month to maximize our freight costs. 
Mule City Feed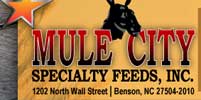 Mule City Feed is a nearly 60 year old, family run feed mill out of Benson, NC. Mule City prides itself in sourcing its grains from area farms and focusing on custom blends and special orders. Mule City will mill feeds to your specification with only a 500 pound order minimum! That's virtually unheard of with other feed mills! We stock a variety of their horse feeds and poultry feeds. Mule City's sweet feeds are unique in that they aren't overloaded with molasses, making them a better value – more grain in the bag - and also healthier for your horse. They also have a unique "Complete" horse feed that contains chopped alfalfa that's a great alternative for senior horses who can't forage and for hard keepers. We also stock a "custom" high fat pellet that was first blended specially for one of our horse boarding customers and has now caught on and fed to horses throughout the community.  We order from Mule City approximately every two to three weeks. Let us know if you have a special feed you'd like to add to our regular schedule!
Reedy Fork Feed

A family farm in Elon, NC, Reedy Fork mills 100% certified organic feeds for a wide selection of livestock. Their feeds are a mix of organic certified grains with a variety of protein sources. Soy free options are available. Feeds are rounded out nutritionally by adding a Fetrell Nutri-Balancer. We currently stock Reedy Fork layer and soy free layer, starter, scratch, and cracked corn. We routinely special order other feeds for folks such as swine, cattle, goat, duck, turkey, and broiler feeds. Reedy Fork currently delivers once a month to our store, on the 3rd Thursday of the month.  We have a list of customers we text a reminder message to monthly when we order Reedy Fork so they can add to our order as needed.  If you would like to be added to that list, just let Melinda know.
Southern States Feed

Shipping from a feed mill in Statesville, Southern States feed is unrivaled in quality control, freshness, and variety. We stock Southern States feeds for horses, poultry, goats, sheep, swine, llamas, alpacas, rabbits, dogs, deer, pond fish and waterfowl. Southern States feeds do not contain by products or added hormones. A select few of the livestock feeds do contain medication for coccidiosis. Horse feeds include a line of Legends products that are premium feeds in the industry. We order every Monday for shipment every Friday. Let us know if you have a special feed you'd like to add to our regular schedule!
Bartlett Feed

Barlett Milling Company is a family owned, North Carolina feed mill located in Statesville, NC. Bartlett offers great quality at great value with some unique offerings, particularly in their poultry line. We stock some of Bartlett's economy horse feeds, goat feed, and a broad line of their poultry feeds. Many of Bartlett's poultry feeds contain APEX, a completely natural, botanical supplement comprised of horseradish, garlic, aniseed, and juniper. This supplement is designed to boost a bird's immune system, and we feel provides a good alternative in a healthy feed for those who want to keep their birds' diets completely natural. We order Bartlett every second Monday for shipment the same Wednesday. Let us know if you have a special feed you'd like to add to our regular schedule!
regular schedule!
Triple Crown
Triple Crown is top of the line when it comes to performance horse feeds.  Whether you have a competition horse or a hard keeper, Triple Crown nutrition is unrivaled.  Their low carb, beet pulp based formulas with top of the line mineral supplements is often at the top of the list for vet recommended feeds.  Triple Crown Senior is hands down our number one selling horse feed in our store.  Triple Crown also provides a selection of bagged forages and hay cubes if you are looking for consistency in your forage, need something you can soak, or just need something easy to carry as you are trailering your horse to the next event.  Triple Crown now offers a Naturals feed that is NON GMO.  We carry most of the Triple Crown line but can also special order anything as needed, and order feed once every three weeks.
Blue Seal Feed
A national feed company, dominant in the northeast, Blue Seal provides a truly premium feed for all animals. We primarily stock some of their extruded pellet horse formulas, a variety of dairy and meat goat and sheep feeds, their pelleted beet pulp, and their organic certified layer pellet. We also routinely special order some Blue Seal specialty feeds for a few of our customers. Blue Seal comes out of Pennsylvania, but most North Carolina feed stores like ours who carry Blue Seal have to buy through a southeastern distributor. We purchase through a company in Virginia which means that special orders can sometimes take a little more lead time to coordinate if they have to be ordered straight from the Pennsylvania mill. We currently order Blue Seal feed approximately every 10 days.